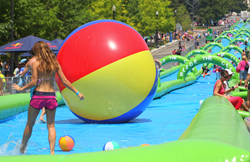 With more time to plan the event, Slide the City™ Portland will be epic!
PORTLAND, ME (PRWEB) July 21, 2015
Slide the City™ has announced that its much-anticipated event will hit the streets of Portland next summer. Despite months of hard work and coordination from both city officials and event organizers, the short Maine summers have forced Slide the City onto the 2016 calendar. Both groups are disappointed, but excited for a bigger event in heat of the season next year.
"We are excited to exceed everyone's expectations next year," said John Malfatto, co-founder of Slide the City™. "With more time to plan the event, Slide the City™ Portland will be epic!"
With more time to coordinate, event organizers expect a bigger, better and wetter slide next year. Participants can soak up the sun while speeding down the enormous slide on inner tubes. With music, vendors and giveaways throughout the day, this family-friendly event promises to be a highlight of 2016.
Slide the City™ hopes to work with local businesses and vendors in the upcoming months to increase community involvement for next year's event. "The massive Slip N' Slide is a blast, but we love to include vendors from the community to give the event more of a festival feel," said Malfatto. "We look forward to working with more local businesses for next year's event."
Those over 5 years of age and 46 inches tall are welcome to slide! Visit http://www.slidethecity.com/locations/ for more information about dates and locations or check out what fans have to say on the Slide the City™ Facebook page at http://www.facebook.com/slidethecity/events.
About Slide the City™
The first event of its kind, Slide the City™ has seen massive growth since it started in 2014. This original concept went viral when the video was released, and this year promises to be bigger, better, and wetter. Slide the City™ is on track to produce more than 100 in the US and Canada and has entered various other countries around the world. Slide the City™ is a family-friendly event bringing 1,000 feet of padded vinyl onto city streets. This giant three-lane slide travels around the country so people from coast-to-coast can have the slide of their lives!