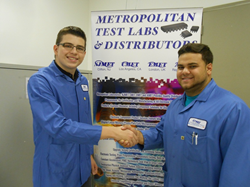 NJ MET, Inc. is pleased to present this scholarship for the 15th straight year -- Joseph Federico, Vice President, NJ MET, Inc.
Clifton, NJ (PRWEB) July 21, 2015
Joseph Federico, NJ MET VP and Director of Operations, announced the award of the NJ MET, Inc. annual scholarship for engineering, science and technology to Eddie Filipovic, a senior at Passaic County Technical Institute in Wayne, NJ. The annual scholarship's goal is to recognize students who excel in the studies of science and technology.
"It was an honor for NJ MET to present the scholarship to Mr. Filipovic at his commencement ceremony in front of his faculty, colleagues and family members," said NJ MET Vice President and Director Joseph Federico from their Clifton, NJ laboratory headquarters. Mr. Filipovic was presented with a saving bond and a plaque by NJ MET representative Michael Giannini.
Mr. Filipovic will be studying Electrical Engineering at the NJ Institute of Technology starting this September. Last year, the scholarship was presented to a graduate of Clifton High School.
"We at NJ MET, Inc. are pleased to present this scholarship for the 15th straight year and offer an internship to current college students who will learn the intricacies of electronic component testing in the commercial, industrial, military and aerospace arenas," added Joseph Federico. Please visit the NJ MET in the News archive to see the announcements of previous scholarship winners.
NJ MET, a Clifton NJ based company, is an industry leader in testing of electronic components. For more information on participating in the annual NJ MET, Inc. scholarship, or any corporate charity cause, please contact Joseph Federico, at NJ MET headquarters in Clifton, NJ or visit the NJ MET website.
About NJ MET:
NJ MET, Inc. provides professional electronic component testing and consulting services to the commercial, aerospace, industrial and automotive industries worldwide.