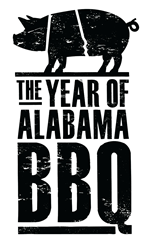 "Big Bob Gibson and The Brick Pit are two of the state's most iconic barbecue restaurants."
Montgomery, AL (PRWEB) July 21, 2015
The Alabama Tourism Department is encouraging people to tune in and check out two Alabama barbecue establishments that will be featured on Cooking Channel's Man Fire Food on Tuesday, July 21 at 8pmET/7pmCT in an episode entitled, "Alabama BBQ." Big Bob Gibson's and The Brick Pit will represent different parts of the state and very different styles of barbecue in an episode airing this week.
"We are thrilled with the exposure that this will bring to Alabama, especially during The Year of Alabama BBQ," said Lee Sentell, director of the Alabama Tourism Department. "Big Bob Gibson and The Brick Pit are two of the state's most iconic barbecue restaurants."
Man Fire Food - "Alabama BBQ"
Premieres Tuesday, July 21st at 7pm CT on Cooking Channel.
Man Fire Food heads to the heart of The American Barbecue Belt, Alabama, and stops by the family-run restaurant serving Alabama-style 'cue for four generations, Big Bob Gibson Bar-B-Q in Decatur. The award-winning Pit Master Chris Lilly shows how to make their legendary smoked chicken, dunked in a unique white sauce. Next up is The Brick Pit in Mobile, where we meet the owner, Bill Ambrecht, who has been serving old school, Alabama-style 'cue for 20 years. Locals and visitors from across the country stop in for the chicken and ribs, but the thing everyone talks about is the pulled pork, which cooks for almost 30 hours in a smoker called "The Big Red."
2015 has been designated as "The Year of Alabama BBQ" by The Alabama Tourism Department. People are invited to tune in and watch, using the hashtag #AlabamaBBQ, and for more information, they can visit alabamabbq.com.