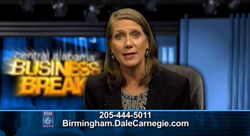 "High employee engagement leads to productivity as well as improved results on the bottom line" - Nancy Covert
Birmingham, Alabama (PRWEB) July 21, 2015
Central Alabama Business Break featured Dale Carnegie of Alabama President Nancy Covert to discuss the relevance of the Dale Carnegie Course today. Dale Carnegie pioneered the workplace learning industry and he based his program on the fact that individuals learn more quickly and effectively in a positive and participative environment. Dale Carnegie Training has held true to those principles over the past 102 years helping to grow and develop individuals and improve organizations, while constantly reinventing themselves and their offerings to stay relevant and competitive in the marketplace.
The Dale Carnegie Course focuses on 5 key drivers for success:
1. Building Self Confidence - Dale Carnegie Training helps participants develop risk-taking skills, get out of their comfort zones and be able to do things that may have been challenging for them in the past.
2. Enhancing People Skills, for example, working effectively with difficult people
3. Managing Stress and Worry
4. Becoming a More Effective Leader
5. Developing Better Communication Skills so participants can convey their ideas across the organization
The Dale Carnegie Course can impact employee engagement. Dale Carnegie Training partnered with MSW research to conduct a study on employee engagement. What they found was that graduates of the Dale Carnegie Course were 47% more engaged in the workplace than were their non-graduate co-workers. This is crucial to the success of an organization because higher levels of employee engagement lead to increased productivity and better "bottom line" results for an organization.
Click here to view the Central Alabama Business Break Segment.
For more information about the Dale Carnegie Course and Employee Engagement or to find out how Dale Carnegie Training of Alabama can help your organization, please call (205) 444-5011 or visit them on the web at http://www.birmingham.dalecarnegie.com.