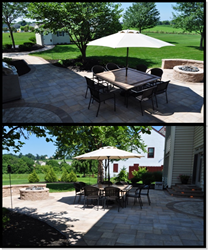 EWBN is committed to serving their customers with quality craftsmanship.
Leola, PA (PRWEB) July 23, 2015
Popular summer activities include hanging out in an outdoor living space. Families should be able to enjoy every moment outside during the season. Unfortunately, two or three years after an installation some problems begin to occur if the patio was installed incorrectly. The secret to a lasting patio is having a built base that has the depth, material, compaction, and correct surface grade to prevent the water from weakening the integrity of near structures and the base of the patio. Before hiring a contractor, ask for references of pervious customer dating back from a year to five years ago.
Eagle Wings Business Network (EWBN) recently assisted a customer with the removal of his old patio. This patio had a dangerous step leading from the house to the patio. Additionally, the base below the pavers settled. It began to washout along the edges causing uneven pavers, which became a tripping hazard. With the proper installation of pavers, no homeowner should have issues with a recently built outdoor living space.
EWBN removed the pavers, reconstructed the foundation, and added an additional stone base for the expansion of the patio. EWBN, home contractors, also added a natural gas fire pit, and a sidewalk leading to the shed. This project was created in a short amount of time, and with very little damage to the turf.
Steve L, stated, "EWBN was professional from the beginning phase to the end of the project. The job went smoothly with no issues; they began the deconstruction phase and finished the project on the dates we discussed. They achieved the task with excellence and we couldn't be more satisfied."
Eagle Wings Business Network, founded and owned by Reuben Stoltzfus, is a family owned and operated company. Qualified and trained staff specialize in construction, hardscape, and landscaping. EWBN is committed to serving their customers with quality craftsmanship and a memorable experience that have customers continuously calling EWBN to return for additional projects.
For more information on EWBN visit their website at http://www.ewbn.net