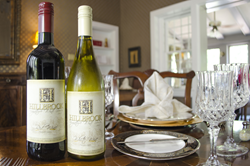 CHARLES TOWN, WEST VIRGINIA (PRWEB) August 11, 2015
While some inns are known for their homemade scones or interesting history, Hillbrook Inn & Spa offers its very own Signature Wine Series that sets apart the Redbook Restaurant's already robust wine list.
Together with the award-winning winemakers at Dr. Konstantin Frank Wine Cellars in the Finger Lakes of upstate New York, Hillbrook Inn & Spa owners Christopher and Carissa Zanella selected two exceptional blends that are specifically crafted to enhance the Redbook Restaurant's culinary experience.
"Our goal is to provide continued excellence in the art of good taste," says owner Christopher Zanella. "Partnering with Dr. Konstantin Frank Wine Cellars enables the Redbook Restaurant to offer two unique and interesting wines that our guests can only find at our establishment."
The Hillbrook Signature Red is a Meritage, blending 59% Cabernet Franc, 35% Cabernet Sauvignon and 6% Merlot. This classic blend of red Bordeaux varieties is barrel aged for one year, yielding subtle cherry flavors and soft tannins that are certain to appeal to even the most discerning wine lovers.
The Hillbrook Signature White is a blend of 50% dry Riesling and 50% Chardonnay. Fermented separately in stainless steel tanks, this subtle wine has fresh fruit characters of pear, stone fruits and lemon, supported by light pine notes and a mineral backbone. Its soft mouth feel and freshness makes it a versatile wine to enjoy with or without food.
Dr. Konstantin Frank is credited with igniting the "Vinifera Revolution," a movement that forever changed the course of wine growing in the United States. The Frank family has continued this legacy over the past 50 years by producing the highest quality wines from the highest quality grapes. 
For the past two decades, Hillbrook Inn & Spa has offered a one-of-a-kind fine dining experience in West Virginia's Eastern Panhandle. Since Hillbrook Inn's early beginnings, the restaurant has tailored meals to the taste preferences of its esteemed guests and recorded each menu in a series of red books, thereby ensuring a level of innovative creativity and a promise that guests won't receive the same meal twice.
Using the freshest seasonal and local ingredients, the talent of its culinary team is evident in the four and five course chef's choice dinner menus. Each course is not just memorable – it's also crafted with guests' specific dietary needs in mind. Whether vegan, gluten free, or something in between, the focus is on creating a menu that exceeds expectations for both guests of the inn and regional foodies alike.
With every meal served in the elegant dining room, a three-glass or four-glass wine pairing is available, which may include the Hillbrook Signature Wine that best complements that evening's menu. Free tastings are offered to all guests during cocktail hours, and guests who purchase two or more bottles to take home receive 25% off the $28 price per bottle.
Hillbrook Inn & Spa was recently recognized as a Trip Advisor 2015 Certificate of Excellence Winner and a top luxury B&B by BedandBreakfast.com.
About Hillbrook Inn & Spa
Situated on George Washington's first land purchase in 1750, Hillbrook Inn & Spa evokes a warm, relaxing and inviting atmosphere for guests to enjoy. More than 30 sprawling acres and 19 guest suites divided among three separate properties provide a quiet retreat just one hour outside of Washington D.C. Local attractions include Harpers Ferry, the Hollywood Casino at Charles Town Races, Summit Point Speedway and a variety of Northern Virginia wineries.