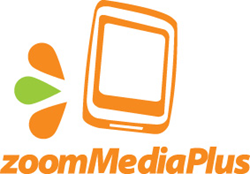 "We strive to reduce the complexity of telecom by providing turnkey products and services that accelerate go-to-market, simplify operations and enhance our customers' mobile offerings."
San Diego, CA (PRWEB) July 22, 2015
zoomMediaPlus, Inc., a MVNO/MVNE in the Sprint ecosystem, is the first to officially launch real-time LTE data control services on the Sprint LTE Network. Real-time data controls use the Gy Diameter Interface to connect the MVNO online charging system (OCS) to Sprint's data network for real-time rating and control of the data flows.
"This capability is of paramount importance to our MVNO customers concerned about managing escalating data usage costs. It gives them the ability to offer prepaid data products with the confidence that they will not incur the costs of data leakage," said Richard Sfeir, Founder and CEO of zoomMediaPlus.
zoomMediaPlus' comprehensive suite of LTE/3G data control services allows MVNOs the ability to monitor and manage the flow of data to a mobile device in real time. It gives zoomMediaPlus and its MVNO customers the ability to track device usage, redirect subscribers to top-up more data, throttle data speed, or tear the data session down in real-time once a threshold has been met.
"As the Sprint network continues its steady improvement nationwide, we're rising to meet the needs of data-hungry MVNO customers," said Scott Kalinoski, vice president-Wholesale & Emerging Solutions at Sprint. "The Gy Diameter Interface will allow zoomMediaPlus to expand its data offering to MVNOs and is another example of how Sprint is evolving its wholesale capabilities to best support customer needs."
About zoomMediaPlus – zoomMediaPlus is a virtual mobile network operator and enabler. We provide white-label mobile service solutions and a comprehensive suite of enablement services with white glove treatment that, under our aggregator program, gives MVNOs the ability to launch their products and services in few weeks – the shortest time to market, with the lowest capital expenditures. Our full-featured back office platform enables the management of the entire subscriber lifecycle and allows MVNOs to focus on running their business efficiently.
For more information, please email to info(at)zoommediaplus.com or call 858-342-9126.