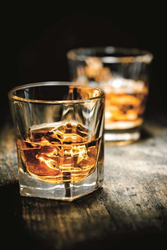 (PRWEB) July 21, 2015
The Ritz-Carlton, Half Moon Bay introduces a five month concert series, Good Jazz, Good Whiskey & Good Company. Held one Friday a month, guests and visitors of the resort are invited to enjoy some of the Bay Area's most profound jazz artists. Presented in The Conservatory from 9:30 p.m. to 12:30 a.m., the evening features a selection of jazz performances ranging from Bebop to New Orleans-style. The evening also features flights of fine whiskey and house made whiskey cocktails, created by the resort's Mixologist Todd Brinkman.
Friday, July 24
Sassy Divas of Jazz Featuring Carla Helmbrecht
Grammy-nominated singer/song-writer, Carla Helmbrecht, began her love affair with music at the age of eight. A native of Wisconsin, Carla was raised in a large music-loving family and had an inherent desire for music. It was her father who introduced her to jazz, and it was not uncommon for the entire family to spend endless evenings making music. By age 13, she was singing professionally and continued her musical studies through high school and college. Early influences included Ella Fitzgerald, Sarah Vaughan, Julie London, Shirley Horn, Nancy Wilson, and Blossom Dearie. Her dual career in music and Speech Pathology has given her a unique understanding of the balance between vocal efficiency and expression in this fragile instrument – the voice.
Friday, August 28
Legends of Bebop Featuring Mike Olmos
Mike Olmos was raised in Merced, CA. He moved to the Bay Area in 1997 to attend California State University, Hayward, to pursue a degree in music. Mike has performed with Etta James, Rosemary Clooney, The Stan Kenton Alumni Big Band, Michael Feinstein, Jon Hendricks, Michael Brecker, Maria Schneider, as well as many other local Bay Area greats. He has recorded with Matt Catingub's "Big Kahuna and the Copa Cat Pack," Rosemary Clooney, Mike Vax, Cannonball, Madeline Eastman and The Marcus Shelby Jazz Orchestra. Mike is regularly seen performing around the Bay Area with Madeline Eastman, the Contemporary Jazz Orchestra, and the Fil Lorenz Nonet/Big Band, as well as his own quartet.
Friday, September 25
New Orleans Jazz Featuring Erik Jakebson
Erik Jekabson is a trumpet player, composer, arranger and educator who lives in the San Francisco Bay Area. Erik has four CDs out under his own name: his most recent album is "Erik Jekabson Quartet & John Santos: Live at the Hillside Club", which like "Anti-Mass", and "Crescent Boulevard" are on his own Jekab's Music record label. He's spent time on the road with Illinois Jacquet, John Mayer, Galactic, and the Howard Fishman Quartet, and has performed at such notable venues as the Concertgebouw in Amsterdam, the Algonquin Room, the New Jersey Performing Arts Center, Madison Square Garden, the Tonight Show with Jay Leno and Late Night with David Letterman. Erik currently leads his own ensembles in the Bay Area, and has brought them to the Stanford Jazz Workshop, the DeYoung Museum, the SFJazz Center, Kuumbwa Jazz, the Jazzschool, the Napa Valley Jazz Society's Parlor Series, Jazz at Pearl's, The Sound Room, Pacifica Performances, the Downtown Berkeley Jazz Festival, the Red Poppy Art House and the Piedmont Piano Company.
Friday, October 30
Soulful Side of Jazz Featuring Brad Leali
Brad Leali, a native of Denver, Colorado, joined the University of North Texas faculty in August 2008 as Professor of Jazz Saxophone. In addition to studio teaching, he teaches jazz performance fundamentals and directs the Three O'Clock Lab Band. A native of Denver, Colorado, Leali received a Bachelor of Arts degree in music education from North Texas in 1989 where he played with the One O'Clock Lab Band. After earning his Master's degree from Rutgers University in 2005, he was appointed head of the jazz program at Texas Tech University, where several scholarships have been established in his name, including the Brad Leali Endowed Jazz Scholarship. He has performed in Lincoln Center in the orchestras of jazz legends Nancy Wilson and Benny Golson. Leali's numerous television appearances include local news programs, the Today show, Jay Leno, Arsenio Hall, BET, and the Harry Connick, Jr., Christmas Special. He performs yearly as part of the Kennedy Center Honors program. Leali performed at President Obama's inaugural celebration "We Are One."
Friday, November 27
Brazilian Jazz Featuring Sandy Cressman
Once in a while, an artist is born with an inexplicable connection to a culture far from the artist's origins. Such is the case with Sandy Cressman. Born in New York City of American parents, but with a Brazilian heart, Cressman began her recording career with the highly acclaimed vocal trio Pastiche. Sandy's connection with Brazilian music was first sparked when she first heard the music of Ivan Lins while in college as a vocal jazz major San Jose State University. Sandy began exploring other Brazilian jazz musicians and began to study Portuguese. From then on, her record collection filled with recordings of Lins and Djavan, Milton Nascimento, Dori Caymmi, Toninho Horta, Elis Regina, Gal Costa, Jobim and others.
About The Ritz-Carlton, Half Moon Bay
Situated 23 miles southwest of the San Francisco International Airport, The Ritz-Carlton, Half Moon Bay is a 261-room destination spa and golf coastal resort and the San Francisco Bay Area's only oceanfront resort. Set atop a rugged bluff overlooking 50 miles of pristine California coastline, the timeless oceanfront estate provides guests with a relaxed yet refined experience, whether for a romantic getaway, meeting or special event. For more information on fall activities, please contact The Ritz-Carlton, Half Moon Bay at 650-712-7000. For room reservations, contact your travel professional, visit ritzcarlton.com/hmb or call Ritz-Carlton worldwide reservations at 800-241-3333. Visit ExperienceHalfMoonBay.com to learn more about the destination.