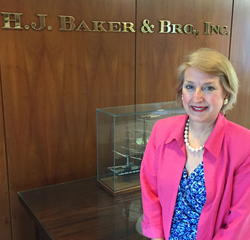 Barbara's depth of experience and success in Human Resources make her a true asset for H.J. Baker as we look to the future growth of our company
Westport, CT (PRWEB) July 20, 2015
Global Agriculture firm H.J. Baker announced today that Barbara Sullivan has joined the company's executive team as Vice President of Human Resources.
Prior to joining H.J. Baker, during Sullivan's 25-year career, she led the Human Resources function in a variety of high-growth industries, both domestically and overseas. Most recently, she was Director of Human Resources at the construction technology company, The Blue Book Network. While there, Sullivan led the efforts to expand the breadth and scope of strategic human resource functions during several years of organizational growth and transformation.
Sullivan also worked with The Really Cool Food Company, where she provided strategic Human Resource leadership in talent management, executive compensation, and succession planning. Sullivan earned her Master's in Education from the Ohio State University and also holds the designation of SPHR, Senior Professional Human Resources, from the Society for Human Resource Management.
"Barbara's depth of experience and success in Human Resources make her a true asset for H.J. Baker as we look to the future growth of our company," said CEO Christopher Smith. "We are thrilled to have her on the team as we move forward."
Sullivan will be based in the corporate office in Westport, Connecticut and will be overseeing the entire Human Resources function for H.J. Baker and Tiger-Sul.
H.J. Baker & Bro. Inc., has been a global manufacturer and supplier of agricultural goods and services for 165 years by building relationships that last decades. It strives to invest in innovative products, the environment and their local communities. The company's strategically located processing plants, offices and warehouses create a super-efficient pipeline for the vital commodities and products that it sources, manufactures and markets. H.J. Baker & Bro. Inc., is headquartered in Westport, Connecticut, U.S.
Tiger-Sul Products, wholly-owned subsidiary of H.J. Baker, is a global leader in Sulphur Bentonite, Sulphur Bentonite Micronutrients technology, and other well-established products with more than 40 years of operational excellence.
For more information on H.J. Baker visit hjbaker.com and connect on social media on Facebook and Twitter.