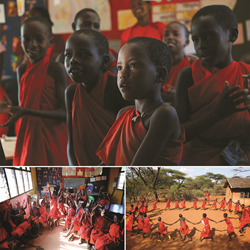 Columbus, Ohio (PRWEB) July 22, 2015
(July 20, 2015) - As an ad agency creative director and commercial film director, Ron Foth Jr. is accustomed to creating memorable images. And now he's done the same as a photographer. Foth's dramatic photo series featuring school children at a remote village in Kenya has been selected for the prestigious and just-released Communication Arts 2015 Photography Annual. Out of 4,421 entries in the competition, Ron Foth's work was one of just 157 chosen by a distinguished jury of industry experts. This is his first time submitting photos and being chosen for the award.
The African School photographs were created for a campaign launching Heart of Africa, a new exhibit at the nationally recognized Columbus Zoo and Aquarium. The exhibit features plenty of African animals, but also celebrates the customs, music, art and people of Africa.
Since 1959, Communication Arts has published the best in visual communications from around the world. The magazine is well known for sponsoring creative competitions that recognize the finest talent in the industry. Winners are selected by a panel of their peers and published in must-have annuals.
About Ron Foth Advertising
Founded in 1975, Ron Foth Advertising is proud to celebrate 40 years of creatively connecting clients with their customers. An award-winning, full-service ad agency and production company headquartered in Columbus, Ohio, Foth offers marketing, branding and digital solutions to clients across the country and around the world. Clients include The Wendy's Company, Safelite AutoGlass, MGM Casinos, San Francisco's California Academy of Sciences, Santa Monica Tourism, The Columbus Zoo, Nutramax Laboratories and many more.