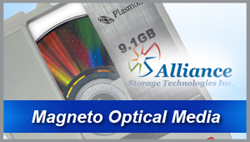 Customers using Magneto Optical media face a variety of challenges and report being affected both operationally and financially
Colorado Springs, CO (PRWEB) July 22, 2015
Alliance Storage Technologies, Inc. (ASTI) has announced the release of several affordable and easy-to-implement upgrade programs for users stranded by Magneto Optical (MO) media end of life. The media, primarily utilized by long-term data archiving applications, has been discontinued leaving dependent customers in a predicament. Sony, the last to manufacture MO optical storage media, has ceased production in all formats (9.1GB, 5.2GB, 2.6GB) signifying end-of-life for the product. All remaining MO media inventory is selling quickly and will be completely unavailable in the near future.
ASTI, with its vast knowledge of optical libraries and media technology (including MO), has developed strategic upgrade paths that enable MO users to continue archiving operations with minimal impact. "Customers using MO media face a variety of challenges and report being affected both operationally and financially. Our upgrade programs have been developed specifically for these stranded customers and can enable them to continue utilizing their investments in MO technology, or move to more current optical archiving solutions," explained CEO Chris Carr.
Magneto Optical media is an early generation of optical technology which has long been considered an excellent choice for long-term data archiving. Data written permanently to the media is still retrievable and readable; however, with all the new advancements in optical technology, MO has been replaced by higher-capacity media with greatly improved transfer speeds.
"Businesses and organizations with MO archiving solutions are clearly faced with a transition. Options include migrating completely to a new optical or hybrid technology, or deploying new technology in parallel with the existing MO library solution and risks vary depending upon the strategy deployed. Our clearly delineated programs will enable clients to choose the upgrade path that best support their current and future archiving requirements," added Vice President, Tim Summers.
Service and support are key aspects of the new upgrade programs. As optical data archiving experts, ASTI has been maintaining and servicing legacy optical libraries utilizing Sony Magneto Optical drives, such as Plasmon M-series, IBM, and HP, for decades. The company indicates that regular service results in greater ROI for systems 10 to 20 years old. Technical support, service and parts are available through the company for businesses and organizations that still have these libraries in production.
As an extension of the new programs, ASTI technical experts are available for a one-time, no-cost consultation to support clients with their decision making process. Customers can submit their current configurations for analysis and schedule a consultation to discuss upgrade program options by clicking here. Alternatively, contact ASTI technical sales directly at: 719-593-7900.
ASTI advises that every system configuration is different and upgrades strategies may vary between applications, however, the company is available to assist users with future planning. The following MO library models (in several versions) are affected:

HP Surestore
Plasmon M-series
Plasmon G-series
IBM 3995
IBM I-series
###
About Alliance Storage Technologies, Inc.
Alliance Storage Technologies, Inc. (ASTI) is the primary source for professional data archiving solutions worldwide that meet and exceed challenging regulatory demands for secure archival data. Professional solutions provide value to any industry including: Healthcare, Finance, Government, Insurance, Legal, and more. These regulatory-compliant systems preserve unaltered data for extended periods (greater than 50 years) at an exceptionally low total cost of ownership.
Integrated and scalable professional data archiving solutions include: Cloud Integrated Storage (CiS), Network Attached Storage (NAS), related management software, and direct attached libraries all with true Write-Once-Read-Many (WORM) as the core technology. Best-in-class global support services are available to sustain customer installations. Additionally, a complete line of certified Plasmon® parts are available. ASTI is committed to providing every customer with exemplary service and support from first contact through the life of the relationship. Thousands of businesses worldwide trust ASTI quality to secure their valuable investments in corporate data.
For further information, please visit http://www.alliancestoragetechnologies.com , or call 719-593-7900.