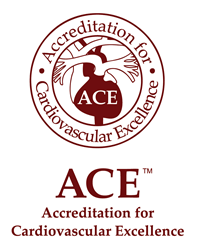 Documentation is everything; ACE helped us put a standardized documentation process in place. This is how facilities can minimize their risk. -- A. Thomas Siachos, MD
Washington, DC (PRWEB) July 21, 2015
The benefit of improved documentation as an outcome of Accreditation for Cardiovascular Excellence's (ACE) process in quality review and accreditation is featured in a new article in CathLab Digest. In it, an interview conducted with A. Thomas Siachos, MD, of Bon Secours St. Francis Health System (BSSF), Greenville, South Carolina, titled Perspectives on ACE Reaccreditation: The Interventional Cardiologist's View, discusses the multiple benefits of ACE accreditation. This article is part of a trilogy of perspectives from BSSF. Part 1 is the Healthcare Executive's view, published in January 2015 by The Alliance of Cardiovascular Professionals and reprinted with permission on the ACE website. Part 3 will be an interview with Lynn Smith, RN, MSN, Director of Heart and Vascular Services, to be published in the next edition of CathLab Digest.
"Our practice had 11 interventional cardiologists with 11 different approaches to case dictation," said Dr Siachos. "Documentation is everything; ACE helped us put a standardized documentation process in place. This is how facilities can minimize their risk."
In the article, Dr. Siachos elaborates on the importance of good documentation prior to and during the procedure, to demonstrate whether the procedure is appropriate. He explains how BSSF is in process of providing an extensive didactic review of best practices in documentation for all of their cardiologists. Structured reporting provides a framework for cath labs to document the appropriate level of clinical and administrative detail to meet the AUC for coronary revascularization.
Dr Siachos also discusses the multiple benefits of ACE accreditation. He cites the ACE external review process, noting how ACE reviewers shared the current highest standards of care. As an example, he cites changes made to BSSF imaging studies. ACE reviewers noticed suboptimal contrast opacification of the vessels in some cases where transradial access was used, this prompting BSSF to tweak their processes. Dr. Siachos believes there a psychological component to hearing an outside perspective. "When an external expert tells you something needs to be fixed, the recommendation holds more weight than if your colleague were to make the same suggestion," he states. "The ACE reviewers opened our eyes to deficiencies in our process, and they were able to make some suggestions that we had not considered on our own."
About Accreditation for Cardiovascular Excellence (ACE)
ACE is an independent organization sponsored by the Society for Cardiovascular Angiography and Interventions (SCAI). ACE offers independent evaluation and monitoring of facilities that provide cardiovascular care. By reviewing facility and operator performance and comparing clinical decision-making to nationally accepted best practices; ACE quality review and accreditation services play a critical role in continuous quality improvement programs. Learn more at http://www.cvexcel.org.