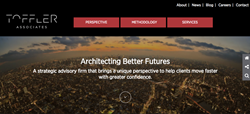 "Organizations have every reason to be hopeful about the future if they take time to prepare to meet it."
Reston, VA (PRWEB) July 21, 2015
Toffler Associates debuts its new website today, highlighting the range of services offered to global organizations preparing to meet future risks and challenges. The site will feature a thought provoking blog conversation offering insights and news about innovation, organizational transformation, risk management, and value creation.
Toffler Associates CEO Deborah Westphal says it is exciting to move forward with a new online presence as the company celebrates a year of positive momentum and approaches its 20th anniversary. "We have been recalibrating our business model over the past year to more closely address client challenges in this age of accelerating change. The results have included four quarters of growth and the largest percentage of revenue gains for the company in the past decade."
Westphal says organizational transformation is inevitable to stay relevant in today's constantly changing world. "Our methodology to help organizations get agile fast works because it encompasses the connectivity between humans, technology, and vision. We connect the dots between global data, demographics, and the effect emerging trends will have on the population and workforce. Organizations have every reason to be hopeful about the future if they take time to prepare to meet it," said Westphal.
About Toffler Associates
Clients turn to Toffler Associates to capitalize on opportunities and mitigate the challenges of an uncertain future. As a consulting and advisory firm, we deliver strategic advantage to clients around the globe with an unwavering commitment to be the catalyst for change. We help organizations move faster with greater confidence. Both the public and private sectors rely on Toffler Associates' Future Proof® business consulting service and unique perspective to architect better futures. Toffler Associates was co-founded by world renowned futurists Alvin and Heidi Toffler.