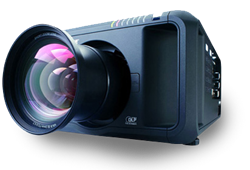 The image of the projectors was crystal clear. The end result was a happy public with over 240,000 satisfied viewers.
Cypress, California (PRWEB) July 23, 2015
Christie® 1DLP® projectors recently played a strategic role at Sensorium, the stand designed by SIA Interactive for Argentina's Ministry of Tourism at Tecnópolis in Buenos Aires, Latin America's biggest exhibition of science, technology, industry and art.
The star attraction at Sensorium was a state-of-the-art 4D projection dome measuring nine meters across and equipped with six Christie 1DLP® DHD800 projectors. A 10-minute film with images of different tourist destinations and World Heritage Sites located in Argentina was screened inside the dome in 360-degrees, making it the first projection of its kind in the country and completely engrossing visitors in a unique experience.
"Because Tecnópolis is open to the public, day in day out, for four months a year, we needed 100 percent reliable equipment that would operate smoothly and require minimum maintenance," said Adrian Simonovich, CEO of SIA Interactive. "That is why we opted for Christie. It is a world leading brand, and we wanted the best available on the market. And once the projectors were up and running, we knew we had made the right choice."
The movie inside the dome was filmed with a Point Grey Ladybug® camera before going through a complex postproduction process that took over six months to adapt it to the specifications of a 360-degree dome.
Different sensors, animations and effects - including wind, rain, aromas and snow - were added to the film to ensure a true 4D experience that would convey to audiences a truthful impression of snow falling over Patagonia, wind blowing on the Argentine Sea, spray from the Iguazu Falls, or the smells of the countryside.
The film was reproduced using a Delta Media Server from 7th Sense, coupled with Digi-Park software developed by SIA Interactive and conceived especially for digital amusement parks.
"The truth is that audiences were completely wowed by the overall quality of the dome," explained Adrian Simonovich. "The image of the projectors was crystal clear. The end result was a happy public with over 240,000 satisfied viewers."
Oscar Gabriel Suárez, Director of Argentina's National Tourism Agency, added: "Our country's Ministry of Tourism invited the public to discover the many impressive landscapes which have been declared World Heritage Sites by UNESCO. The 4D tour gave visitors a chance to see and feel for themselves first-hand the experience of the spray from the Iguazu Falls, the mighty roar of the Perito Moreno glacier, or the majesty of the Southern Right Whale and the sea fauna of the Valdes Peninsula - just some of our country's many natural wonders.
The cutting-edge technology of Christie projectors and the use they were put to by SIA Interactive produced excellent results at Tecnópolis, Argentina's foremost showcase for science and technology."
Jorge García, Christie Sales Director for Latin America, said: "we are delighted with the imaginative use that SIA Interactive made of our projectors in Sensorium. SIA Interactive has an outstanding technical and creative team and it is one of the first companies that come to mind when organizing projects of this scale in the region."
Sensorium also included other experiences developed by SIA Interactive including interactive tables with games, virtual reality stations, projected hemispheres that detect movement, holograms and digital fingerprint readers.
Tecnópolis covered 50 hectares with 4.7 million people registering. It included an aquarium, a sea museum and an energy museum, a theme park, a dinosaur area, an area for educational videogames, a section for agriculture and an area for mathematical games.
About Christie®
Christie Digital Systems USA, Inc. is a global visual and audio technologies company and is a wholly-owned subsidiary of Ushio Inc., Japan. Consistently setting the standards by being the first to market some of the world's most advanced projectors and complete system displays, Christie is recognized as one of the most innovative visual technology companies in the world. From retail displays to Hollywood, mission critical command centers to classrooms and training simulators, Christie display solutions and projectors capture the attention of audiences around the world with dynamic and stunning images. Visit http://www.christiedigital.com for more information.
"Christie" is a trademark of Christie Digital Systems USA, Inc., registered in the United States of America and certain other countries.
DLP® is a registered trademark of Texas Instruments