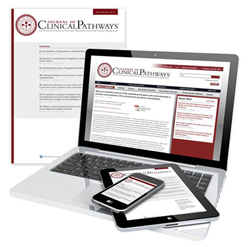 Journal of Clinical Pathways is the first platform designed specifically to examine the relationship between advancements in data and clinical pathways.
Malvern, PA (PRWEB) July 21, 2015
HMP Communications Holdings, LLC, is proud to announce the launch of a new peer-reviewed publication, Journal of Clinical Pathways, which provides a forum for the exchange of timely, evidence-based information in the pursuit of attaining quantifiable value in healthcare.
"As more and more costly medications are being pushed through the drug development pipeline, clinical pathways are being viewed as a tool for managed care executives and practitioners to find common ground to provide the best quality of care at the highest clinical and economic value," explained Jeff Hennessy, chairman and chief executive officer, HMP Communications Holdings, LLC. "This is a very exciting time – we're witnessing the convergence of several potent dynamics – and healthcare is now at a point where it truly has the ability to harness the power of big data, in order to deliver more precise outcomes and measurable value. Journal of Clinical Pathways is the first platform designed specifically to examine the relationship between advancements in data and clinical pathways, with the ultimate goal of determining the best possible care for patients in all disease state treatment settings."
The journal, which is currently accepting submissions, will present peer-reviewed educational and informational articles and reports of original research on health economics research outcomes, clinical pathway development, medical ethics, and the organization of data to demonstrate value in health management, as well as case studies of strategies that have contributed to improved outcomes and enhanced value.
Journal of Clinical Pathways is also pleased to announce its founding Editor-in-Chief, Winston Wong, PharmD, president of W-Squared Group, a consultancy that supports small healthcare innovators in developing their value statements before launching their technology in the government or commercial marketplace. Dr. Wong was previously the Associate Vice President of Pharmacy Management with CareFirst BlueCross BlueShield, where he received numerous accolades for the implementation of his pharmacist-driven Medication Therapy Management (MTM) program that expanded to include the entire prescription benefit commercial population in late 2011. Dr. Wong was awarded the APhA-APPM Pharmacy Practice Merit Award and the Honorary President's Award in 2009 to recognize his efforts to promote medication therapy management in the commercial sector.
"We're excited to have someone with Dr. Wong's expertise leading us on this new and much needed publication," said Kara Rosania, MS, managing editor for Journal of Clinical Pathways. "The commitment, passion, and proven success Dr. Wong brings to the subject of value-based care will make Journal of Clinical Pathways a powerful forum for discussions of clinical pathway development."
"Clinical pathways are an important and under-valued tool for providing evidence-based approaches to treatment that enhance value," said Dr. Wong. "I'm excited to be a part of the founding of Journal of Clinical Pathways so that we can enable productive discussions of how best to balance the metrics of clinical benefit, limitation of risk, and quantifiable value in the development of these pathways."
Print issues of Journal of Clinical Pathways will be published bi-monthly and will be distributed to a BPA-certified, controlled circulation audience of leaders in pathway development, commercial payers, reimbursement specialists, ACO oncologists, oncology practice managers, and cancer center directors. Articles will also be published on the journal's open access website (http://www.jcponline.com), set to launch in August 2015.
About HMP Communications Holdings, LLC
HMP Communications Holdings, LLC, a collaborative formed by HMP Communications, LLC and North American Center for Continuing Medical Education, LLC (NACCME), is a leader and innovator in healthcare communications. The company produces some of the industry's most well respected brands of multimedia, live events and accredited continuing education (CE) programs. HMP distributes award-winning content across a wide spectrum of healthcare audiences who can access its brands anywhere, everywhere, at any time. Visit http://www.hmpholdings.com for more information.