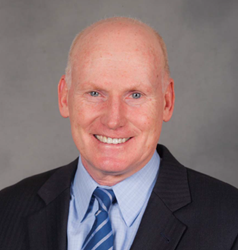 Bronx, NY (PRWEB) July 21, 2015
Calvary Hospital has announced that Jim O'Hara has joined the Board of Directors for the Calvary Fund, which directs all fundraising efforts in support of the Hospital's unique and historic mission.
"Having board members with a strong commitment to Calvary's unique mission is essential to our future success," said Carlos M. Hernandez, chairman of the Calvary Fund Board of Directors. "We are confident that Jim's broad business experience will help us increase the breadth and depth of our outreach on the important work that Calvary does every day."
Mr. O'Hara is a seasoned executive with three decades of experience in finance, product and operations management, leading companies in both the for-profit and non-profit arenas. In 2012, he joined the 92nd Street Y, the 140-year-old, world-renowned cultural and community center on the Upper East Side of Manhattan.
Currently, he serves as associate executive director/chief financial officer. In less than 24 months, Mr. O'Hara has led a significant financial turnaround at this beloved institution. He has provided leadership on values-based innovations such as Giving Tuesday, which was founded and introduced to the global community by 92Y.
Previously, Mr. O'Hara was a senior executive at the Nielsen Company, the world's leading media measurement brand. During his 13-year tenure, Nielsen's enterprise value increased from $4 billion to $20 billion. Mr. O'Hara helped Nielsen successfully transition from a public company to private equity, and again to public company, delivering significant increases in shareholder value.
Mr. O'Hara graduated from Long Island University with a Bachelor of Science degree in accounting and is a Certified Public Accountant. Jim and his wife Susan reside in Rockville Centre, New York, with their three children, and are actively involved in St. Agnes Cathedral parish and various community activities.
About Calvary Fund/O'Hara:
For more than a century, Calvary Hospital has been the nation's only fully-accredited acute care specialty hospital devoted exclusively to providing palliative care to adult patients with advanced cancer and other life-limiting illnesses. More than 6,000 patients are cared for annually by Calvary's inpatient, outpatient, home care, hospice, and wound care services. Inpatient care is offered at our 200-bed facility in the Bronx and our 25-bed Brooklyn Satellite at Lutheran Medical Center. Calvary Hospice provides short-term inpatient care at The Dawn Greene Hospice, located at Mary Manning Walsh Home in Manhattan. To learn more or sign up for the e-newsletter, Calvary Life, please go to http://www.calvaryhospital.org.