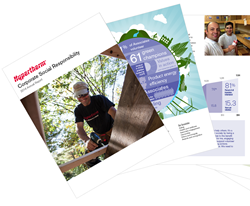 This report is one way we can share our journey and demonstrate our commitment toward reaching our goals. We know we have a ways to go, but are proud of the steps made so far.
Hanover, NH (PRWEB) July 21, 2015
Hypertherm, a U.S. based manufacturer of plasma, laser, and waterjet cutting systems, today announced the release of its annual Corporate Social Responsibility report. The full report, available for download at http://www.hypertherm.com/csr/, measures 2014 progress on Hypertherm's social and environmental efforts.
The report covers three different CSR disciplines: the community, the environment, and Associate well-being. Highlights from 2014 include a year over year increase in the number of Hypertherm Associates volunteering in the community, a decrease in emissions and landfill waste, and the expansion of its on-site wellness facility.
"Caring for the community, environment, and well-being of our Associates is an important part of our mission," said Jenny Levy, vice president of corporate social responsibility for Hypertherm. "This report is one way we can share our journey and demonstrate our commitment toward reaching our goals. We know we have a ways to go, but are proud of the steps made so far."
More than 80 percent of Hypertherm Associates volunteered last year, up from approximately 75 percent in 2013. Combined, those Associates worked 17,434 hours in 15 different countries. The Hypertherm Owners' Philanthropic Endeavors (HOPE) Foundation meantime awarded 87 grants in support of areas such as health and wellness, education including STEM (Science, Technology, Education, and Math) programs, and food and shelter.
Environmental measures show that Hypertherm used less electricity, recycled more water, and created less landfill waste in 2014. In total, the company sent a little more than 4 percent of its waste to the landfill, compared with more than 12 percent in 2010, the baseline year used by Hypertherm. The company continues to purchase renewable energy credits for 100 percent of its domestic energy usage, has awarded green leaf certification to nearly 80 percent of its teams, and now has 62 percent of its suppliers working toward a sustainable procurement management goal.
The company's 2014 safety record came in at 1.4 incidents per 100 full-time Associates, well below the industry average of 5.2. Also in 2014, Hypertherm invested additional dollars in its on-site Hypertherm Associate Wellness Center, adding a primary care physician, and expanding both hours and patients' served to spouses and dependents over the age of 16. Finally, the number of Associates attending on-site Hypertherm sponsored fitness classes increased to 64 percent.
Hypertherm designs and manufactures advanced cutting products for use in a variety of industries such as shipbuilding, manufacturing, and automotive repair. Its product line includes plasma, laser and waterjet cutting systems, in addition to CNC motion and height controls, CAM nesting software, and consumables. Hypertherm systems are trusted for performance and reliability that result in increased productivity and profitability for hundreds of thousands of businesses. The New Hampshire based company's reputation for cutting innovation dates back nearly 50 years to 1968, with Hypertherm's invention of water injection plasma cutting. The 100 percent associate owned company, consistently named one of the best places to work in America, has more than 1,400 associates along with operations and partner representation worldwide. Learn more at http://www.hypertherm.com.