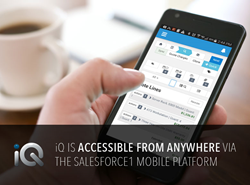 We're looking forward to a webinar in partnership with ServiceMax and our shared customer, Westmor, to show just how much versatility and functionality can be added to the core Salesforce CRM platform. - Vivian Keena, CEO
Aliso Viejo, CA (PRWEB) July 30, 2015
Alternative Technology Solutions, the leading CRM and ERP solution and service provider that brings the best of the cloud to manufacturers, today announced that it is hosting a live webinar event on Wednesday, August 19 in partnership with ServiceMax.
"One of the great things about the Salesforce Independent Solution Vendor market is that there are so many partners that provide cloud point solutions that address specific business challenges," said Vivian Keena, Alternative CEO. "We're looking forward to a webinar in partnership with ServiceMax and our shared customer, Westmor, to show just how much versatility and functionality can be added to the core Salesforce CRM platform with the addition of best-of-breed applications."
The live webinar event will focus on the success Westmor has experienced with Salesforce and how it has used Alternative's iQ Configure, Price, Quote application and ServiceMax's field service solution to derive additional value and usability from the Salesforce platform.
"Salesforce is an incredibly powerful tool and it's made a huge difference in the effectiveness of our team," said Beth Koehl at Westmor. "Bringing in iQ to handle our complex, configured quoting and ServiceMax to help us manage our field service activities has helped the team to better adopt Salesforce and, in turn, for the company to see better results from our customers."
iQ Configure, Price, Quote is a native Salesforce application built to handle the advanced quoting needs of manufacturers and distributors. Seamless on Salesforce, it streamlines the quoting process while handling complex and configured items; price breaks; kits, BOMs, and routings on the fly; instant collaboration and reviews through Chatter; and many more details that meet the specific needs of manufacturers and distributors.
Joining Alternative is ServiceMax, the field service management solution built on the Salesforce1 platform for a new era of business. Dave Yarnold, CEO at ServiceMax explained: "Our mission at ServiceMax has been to empower every field service technician in the world to deliver flawless field service. Westmor is the perfect example: their service technicians are the backbone to their customer relationships. Westmor is a valued partner and we are thrilled to see their results since using ServiceMax."
The live webinar event takes place at 10 a.m. PT on Wednesday, August 19 and signup is available online.
About Alternative Technology Solutions
Alternative Technology Solutions, Inc. brings the best of the cloud to manufacturers and distributors through solutions and services that help companies work smarter and faster. Headquartered in Aliso Viejo, CA, the company also has offices in Boston, Chicago, Indianapolis, and Monterrey, Mexico. Alternative is a two-time Inc. fastest-growing company, was highlighted on CIO Review's annual list of Most Promising Manufacturing Tech Solution Providers, and was a Silver Stevie Award Honoree.
For more information, visit http://alttechsolutions.com.
About ServiceMax
ServiceMax leads the massive and global industry of field service management software — an $18 billion market worldwide. The company continues to reimagine and create solutions for the 20 million people globally who install, maintain, and repair machines across dozens of industries as the only provider of complete end-to end mobile and cloud-based technology for the sector. ServiceMax goes to every length -- from joining technicians on service calls to publishing the industry's leading online publication -- to help customers discover untapped innovation, unleash new revenue streams, drive efficiency, and most importantly delight their end-customer.
To learn more, please visit http://www.servicemax.com.