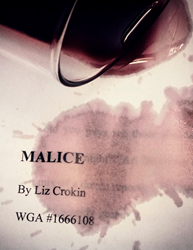 I'm so honored to win such a prestigious award from the Hollywood Book Festival and I'm especially flattered, as a new author, to be grouped with this year's other winners who are accomplished bestselling and award winning authors. - Liz Crokin
Los Angeles, CA (PRWEB) July 21, 2015
Hollywood reporter Liz Crokin wrote "Malice" a fiction book published in March of 2015 and is already on this summer's hot list reads and winning awards. Malice won for best fiction book in the wild card category in this year's Hollywood Book Festival. "Malice" is a story based on a series of true events and is turning heads all over. This is a first time novel award for author Liz Crokin.
Malice is one of the 14 winners in the Hollywood Book Festival with other books written by accomplished authors such as award winning and bestselling author Gary Grossman, Amazon top selling author Rick Robinson, award winning author Christian Cipollini and award winning children's author Dena Albergo Jayson. The Hollywood Book Festival was devised years ago by JM Northern Media because they realized that many authors wish to get their works reviewed by producers. Because of the company's Hollywood location and their various events throughout town, they realized a happy medium existed to bring these two camps together. The festival guarantees that they will make the winners available to their network of contacts and constantly promote their list in the entertainment industry. Liz Crokin's "Malice" has been sought after for film options prior to the book even being published. This is just the beginning for Hollywood hot shot author Liz Crokin.
About Liz Crokin: Liz Crokin is a seasoned journalist who covered Hollywood full-time for over a decade until October 8, 2012, when doctors diagnosed her with viral meningitis. Her goal is to educate and help others who have struggled with disease, a disability or fallen victim to a sexual assault. Liz's political romantic thriller "Malice" is inspired by her experiences with her disease and working as a Hollywood journalist.