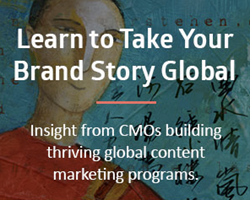 In many cases, brands are going about this process without a real strategy- MaryAnne Flynn
Boston, Mass (PRWEB) July 21, 2015
Skyword, a content marketing platform and services company, today released "Taking Your Brand Story Global," a guide to help marketers overcome one of the top challenges in the digital age: reaching and building trust among global audiences.
"In the borderless virtual world, your customers can come from unexpected places," said Pam Didner, contributor to the guide, in her book, Global Content Marketing. "To succeed, you need to think of your content with global usage in mind."
Brands have become accustomed to delivering personal, engaging experiences through content and original stories. However, the thought of repurposing content in a way that it resonates in other cities and countries can be paralyzing. Telling brand stories on the global level elicits fear among most marketers, as they have to navigate translation mishaps, maintain transparency between different regional teams, and control brand standards.
On top of the new processes and considerations global storytelling introduces, marketers also struggle to make sense of "content chaos" resulting from the different goals, platforms, and campaigns that regional marketing teams have created over time.
This guide offers the steps needed to launch a global storytelling campaign, and outlines the lessons learned from marketing leaders at Google, MasterCard, and Mozilla.
"In many cases, brands are going about this process without a real strategy," said MaryAnne Flynn, VP of global operations at Skyword. In the guide, Flynn offers insight into how marketing leaders at enterprise-level brands strengthen departmental ties in order to ensure the brand's content reflects local values.
By providing a framework, Skyword hopes to ease the anxiety of telling stories to global audiences. Topics include:

The Next Stage of Content Marketing Is Brand Stories: When centered on the customer, original stories connect people to the brand's values and mission.
Strengthening Communication and Transparency: Global brand storytelling requires strong relationships between the brand headquarters and field marketing. To foster this connection, brands must establish a "relate and respond" model where the corporate headquarters enables regional strategists to respond quickly to market changes and evolving customer needs.
Finding the Right Local Partners: Authentic stories need to come from the hearts of local creators with deep knowledge of the trends, customs, and language nuances.
Developing Scale and Efficiency: In order to manage and grow a global storytelling program, brands need a collaborative infrastructure for ideation, review, publication, and optimization.
For more information on global brand storytelling, download Skyword's guide.
About Skyword:
Skyword moves marketing leaders and those who create content for them forward. By embracing a sustainable, scalable approach to original storytelling, Skyword liberates brands from ineffective marketing practices and inspires them to create deeper connections with their audiences. The Skyword Platform makes it easy to produce, optimize, and promote content globally to create meaningful, lasting relationships. Skyword also provides access to a community of thousands of freelance writers and videographers, an editorial team, and program managers who help move clients' content marketing programs to new levels of creative excellence. Clients include IBM, New Balance, Autotrader, HP, Entertainment Weekly, and more.
Connect with Skyword
Website: http://www.skyword.com
Facebook: https://www.facebook.com/skyword
Twitter: @skyword
LinkedIn: https://www.linkedin.com/company/skyword-inc-
The Content Standard: http://www.contentstandard.com/