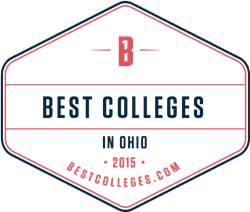 BestColleges.com hopes to help Ohio's students earn degrees from schools that are best-suited to meet their needs.
Houston, TX (PRWEB) July 21, 2015
BestColleges.com has released it's latest review of Ohio's top colleges. In total, 50 schools are ranked — the top 25 colleges and universities for four-year degree programs and the top 25 for two-year degree programs. The site's heavily data-focused approach to rankings methodology makes for a unique, even surprising list. Mainstream rankings and the 'expert opinions' that often skew their results were disregarded. Every accredited school in the state was considered and weighed by four performance indicators: acceptance, retention, graduation and student loan default rates.
"The idea is to connect students in Ohio to the schools in their area with the highest rates of student success, not just those with the biggest names" says the editor in chief of BestColleges.com, Ryan Gleason.
These new rankings come at a good time for students residing in a state where application rates are dropping. To close the enrollment gap, schools are getting more aggressive with marketing efforts. While tuition prices remain high, higher education in Ohio and throughout the midwest is finally becoming a buyer's market. Loans are easier to come by and admission is easier to gain. This is a great climate for college students, but it also comes with more risk and confusion than ever before.
Whether through the state's mammoth Ohio State system or through an overlooked liberal arts or vocational college, BestColleges.com hopes to help Ohio's students earn degrees from schools that are best-suited to meet their needs. In addition to rankings, the site hosts a collection of useful resources for prospective Ohio students, including a guide to establishing residency, financing their degree and a breakdown of the differences between two and four-year colleges in the state.
For questions and comments regarding the BestColleges.com rankings or website, please contact site manager, Stephanie Snider: Stephanie(at)bestcolleges(dot)com.
Top Four-Year Schools
1. Oberlin College
2. Kenyon College
3. Ohio State University - Main
4. Denison University
5. Case Western Reserve University
Top Two-Year Schools
1. Mercy College of Ohio
2. Ohio State University - Mansfield
3. Ohio State University - Marion
4. Ohio State University Newark
5. University of Northwestern Ohio
About BestColleges.com
BestColleges.com was founded in 2012 with the mission of helping prospective students find the college that best meets their needs. Visitors to BestColleges.com can find the tools and resources to succeed throughout their higher education career. Those in the college planning stage can take advantage of college rankings, a searchable database of schools, and financial planning guides.