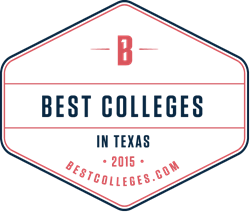 There are a number of excellent Texas schools that tend to go unnoticed by students and parents.
Houston, TX (PRWEB) July 21, 2015
BestColleges.com has released its rankings of the 25 best two-year and 25 best four-year colleges in Texas for 2015. Schools on both lists were evaluated across five metrics: their acceptance, enrollment, retention, graduation, and student loan default rates.
Ryan Gleason, editor-in-chief of BestColleges.com, explained why he considers this year's rankings to be a cut above: "We were tired of looking at annual lists that heap praise on a few well known schools. There are a number of excellent Texas schools that tend to go unnoticed by students and parents. Our 2015 methodology ignores reputation, purely valuing a school's academic merits and postgraduate student support; traits that truly make a school great."
Gleason pointed to LeTourneau University as an example of a small school that deserved more acclaim for its academics and student body. A private Christian school of roughly 4,000 undergrads total, BestColleges.com reported that "an astounding 26% of [LeTourneau] campus residents were valedictorians or salutatorians in high school." The school was named the 4th best in Texas.
The site's method of assessing Texas schools is ultimately the reason why many smaller, less known schools fare well in the rankings. Gleason specifically pointed to the significance of student loan default rate data. "Low default rates strongly suggest that a school's graduates are ending up gainfully employed shortly after finishing school ― not all large universities can compete with the highly capable, highly employable graduates coming out of small to mid-sized universities."
The site's two-year and four-year Texas college rankings can be found here, on one comprehensive page. To date, the site has released similar rankings for five states, all of which can be found here. BestColleges.com will release rankings for all fifty states in the coming months.
For questions and comments regarding the BestColleges.com rankings or website, please contact site manager, Stephanie Snider: Stephanie(at)bestcolleges(dot)com.
Top Four-Year Schools
1. University of Texas at Austin
2. Rice University
3. Texas A&M University
4. LeTourneau University
5. University of Texas at Dallas
Top Two-Year Schools
1. Wharton County Junior College
2. Northwest Vista College
3. San Jacinto Community College
4. Jacksonville College
5. Victoria College
ABOUT BESTCOLLEGES.COM
BestColleges.com was founded in 2012 with the mission of helping prospective students find the college that best meets their needs. Visitors to BestColleges.com can find the tools and resources to succeed throughout their higher education career. Those in the college planning stage can take advantage of college rankings, a searchable database of schools, and financial planning guides.