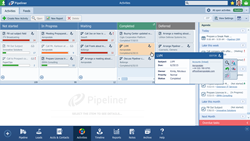 Last quarter we saw GetRank name us the #1 CRM in the world, but this release pushes us into a category beyond CRM. We are poised for dramatic adoption in this massive market. This is the right tool for sales organizations, now.
Los Angeles, CA (PRWEB) July 21, 2015
Pipeliner CRM today announced the launch of the newest version of their 5-star-rated Pipeliner CRM software, setting a new standard for this market segment. Pipeliner CRM takes a major step forward releasing Principia, highlighted by a complete selling system and enhancements to Sales Activities -- including a visual Task Board, Contact Record autofill, and powerful Reporting features.
This release, which the company calls Principia, references Isaac Newton's trilogy on the laws of motion that govern the universe. The Company's goal with Pipeliner CRM is to similarly focus the laws of sales motion toward effective and efficient behaviors for sales teams. Pipeliner has developed a uniquely visual application that creates forward momentum in sales cycles while increasing pipeline accuracy, lowering risk and delivering greater predictability for the organization.
Sales organizations have long struggled to find ways to bring consistency to their sales processes, as the management of each Sales Stage and the Sales Steps within each Stage is difficult and often haphazard . Yet studies show that companies with a sales process in place win at a 37% higher rate than companies without.
"This release changes the nature of sales CRM completely," said Nikolaus Kimla, Pipeliner CEO. "No other software company in the CRM market segment is moving in this direction -- building a complete Selling System based on proven economic and business principles. With this release, we bring over 8 years of development to a place where principles become practical and we enable sales teams using our CRM to be focused, efficient and successful."
The company that adopts Pipeliner CRM now gets:
1. Stages that make sense - New Customizable Sales Steps support your sales process and offer a way for salespeople to be consistent in their workflow.
2. A guided process -- New Sales Activities accompany each Sales Step to motivate sales teams to take the right action at the right time.
3. Activities to move the Opportunity forward - New Visual Task Board graphically aligns the entire sales team on every sales Opportunity. Connects Tasks across Contacts, Accounts, and Opportunities.
These are in addition to features and functionality that already make Pipeliner CRM totally unique in the market:
Process Management & Data Entry Made Easier - Multiple Pipelines allow you to define different processes such as sales and account management are made even more useful with easier, customized forms.
Automatic Research and Autofill - Pipeliner saves data entry by searching and populating records.
Offline & Online Capabilities - Pipeliner's unique architecture enables sales to work with the desktop version anywhere, anytime -- online or not. When internet connectivity is again available, synchronization is instantaneous and in the background.
The new Pipeliner CRM release also contains additional Reporting features that inform the entire sales process. The ability to create drag-and-drop Folders in a familiar filing system, create exceptionally powerful Pivot Table reports which can be drilled into for rich insights.
"Last quarter we saw GetRank name us the #1 CRM in the world, but this release pushes us into a category beyond CRM," said Kimla. "We are poised for dramatic adoption in this massive market. This is the right tool for sales organizations, now."
For more information this release please visit our What's New page. For more on Pipeliner CRM software or to download a 30-day free trial, please visit: PipelinerCRM.com
About Pipeliner CRM
Pipeliner - The World's Most Visual CRM
Pipeliner is a fresh new approach to the traditional sales pipeline and the way it drives CRM, engaging the sales organization with visual insights. The methodology behind our platform provides a solid sales process for thousands of organizations, worldwide.
Headquartered in Los Angeles, California, Pipeliner CRM has offices in the UK, Austria and Slovakia. Engage with us on Twitter (@PipelinerCRM) or visit us at PipelinerCRM.com