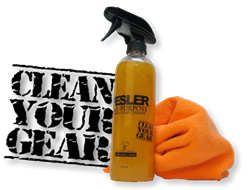 The Fesler All Purpose Sports Gear Cleaner is not some fluffed up version of existing cleaners. Our formula is unique and proprietary to Fesler. Our goal was to create something that delivers on its promise and fills a specific need in a specific market.
Scottsdale, Arizona (PRWEB) July 22, 2015
Participating in a sporting event or outing is always more satisfying when your equipment is shiny and clean. Fesler's sports gear cleaning products are just what you need to make sure your gear looks brand new as long as possible and appears gently-used forever.
Fesler All-purpose Sports Gear Cleaner is an all-around cleaner for everything sports. Whether it is golf clubs or tennis rackets, equine saddles or hockey skates, Fesler Gear Spray has been formulated to intensely clean and shine all types of equipment.
Our unique blended formula provides an easy method of cleaning while also adding an additional layer of protection against dirt and grime. Simply spray on and wipe off. No scrubbing, dunking, soaking or steaming required. Safe for all materials including plastic, metal, glass, rubber, leather, wood, vinyl and (even though it is not considered sport's equipment) cell phones.
The simple ingredients list, quality components and affordable price point ensure that Fesler All-purpose Sports Gear Cleaner is the best option to have on hand when carrying around a bucket of soapy water simply won't do. The 16 oz. bottle is convenient to pack along with other gear and handy for all applications. It is safe for people with chemical sensitivities, eco-friendly and non-toxic.
Instant access to this press release and all its photos can be obtained by clicking here.
About Fesler-Bailey LLC
We are a group of individuals who know about cleaning. We get our roots from the automotive industry and we are all familiar with how to clean just about anything concerning a car or truck. After meeting and befriending several professional athletes as well as starting families and popping out a few kids, we realized there was a need for a quality cleaning alternative for sports gear than just water. Voila', Fesler All Purpose Sports Gear Cleaner was born.