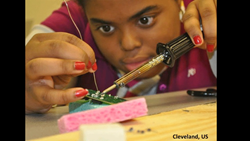 The power of the Fab Lab is social, not technical. ~~Neil Gershenfeld, Founder Fab Lab Network
Cambridge, MA (PRWEB) July 21, 2015
FabFest, a free festival celebrating making, creativity and social impact comes to the Boston area on August 8 and 9 to show how anyone can make almost anything and change their world. The weekend includes exhibitions, demonstrations, live performances, hands-on activities, as well as talks and panels featuring innovative makers from the Boston area and around the globe.
The central FabFest event will be in Boston at the Reggie Lewis Center in Roxbury Crossing. Open to everyone, Fab Fest Boston will be held on August 8th from 10 AM to 4:30 PM and on August 9th from 10:00 AM to 3:00 PM at the Reggie Lewis Center on Tremont Street in Roxbury Crossing. At FabFest Boston everyone from kids to seniors can try their hand at building a laser cutter, see how designers from Barcelona can light up their clothes, make insect robots with students from rural India, and have a 3D Model of their face 3D Printed.
Communities throughout the city are organizing related events. The Roxbury Innovation Center [RIC] is hosting a free Hand-A-Thon on August 8 where new volunteers in the international Enable project can learn how to 3D Print and assemble prosthetic hands that are donated to kids and adults in need. Fab Lab Hub will host a "Thanks for Lending a Hand" Party at the Cambridge Innovation Center on the evening of August 8 with food, drink and 3D Printing demos of prosthetic hands. Other events are listed on the FabFest website.
Kevin Wiant, Executive Director of the Venture Café Foundation, explained why RIC is looking forward to hosting the Fab11 Hand-A-Thon: "Fab Labs provide the kind of interactive maker programs RIC supports. Not only do they help inspire anyone to make almost anything, it has been shown in communities near and far that making leads to building products and then starting businesses. This is the type of activity that we want to have at RIC."
FabFest is a part of Fab11, the 11th annual meeting of the International Fab Lab Network. Makers from more than 500 Fab Labs in over 60 countries are gathering in Cambridge at MIT, the birthplace of the Fab Lab concept. The meeting comprises the annual conference of the international Fab Lab Network, a Symposium at Symphony Hall on August 6 that is open to the public, in addition to the free 2-day public Fab Fest.
"We're excited to welcome Fab11 to the Boston area this year," said Boston Mayor Martin J. Walsh. "In Boston, we're working with our partners in Cambridge, Somerville, and throughout the region on expanding maker spaces so the great ideas that are born here can be brought to market here as well. Congratulations to the MIT Center for Bits and Atoms and the Fab Foundation for their tremendous work and their incredible contributions to the maker community."
Local government officials including Mayor Joseph Curtatone of Somerville, Cambridge City Manager Richard Rossi, and Boston's Chief of Economic Development John Barros will be joined by Mayors Jean-Luc Moudenc of Toulouse, France and Mondli Gungubele, Mayor of Ekurhuleni, South Africa in a Fab Fest session on how Fab Labs are changing cities around the world. Other such workshop collaborations between nations will happen throughout the program.
For complete Fab Fest program details go to http://www.FabFestBoston.org. To register for the Symposium, opportunities to volunteer, or contribute as a sponsor, go to http://www.fab11.org