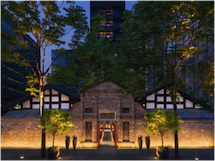 The Temple House presents an ideal opportunity to extend our brand into one of China's wealthiest and fastest-growing regions
Chengdu, China (PRWEB) July 21, 2015
Swire Hotels has officially opened its third property from The House Collective, following the successful launch of The Opposite House in Beijing and The Upper House in Hong Kong. The Temple House is a joint development with Sino-Ocean Land and Swire Properties and is situated within the heart of Chengdu creating a uniquely designed urban retreat. 
 
"Our goal is to create a highly individualized hotel which houses a series of dynamic restaurants and uniquely designed facilities. The Temple House presents an ideal opportunity to extend our brand into one of China's wealthiest and fastest-growing regions," said Brian Williams, Managing Director of Swire Hotels.
 
"The Temple House is a modern hotel that celebrates its historic location. We aim to provide discerning travelers with residential-style accommodation, where they can enjoy an authentic Chengdu experience," said Mark Passmore, General Manager, The Temple House.
 
Chengdu, "The Land of Heaven" is China's most laid-back city. Today, couples stroll and enjoy a booming culinary arts scene and outdoor coffee houses. It is a high-tech hub, has a famous panda breeding program and tranquil teahouses that define the cultural heart of China's Southwest Sichuan province. 
 
The Temple House is located within the 1,000-year-old Chengdu Daci Temple Cultural and Commercial Complex. Designed by internationally-renowned architects, Make Architects the hotel is an integral part of the city government's conservation project to preserve the surrounding heritage buildings. The three-dimensional woven façade combines modern design with the traditional Chengdu architectural elements of timber, brick and step stones. Elegant bamboo trees frame the hotel's entrance, which is set in a beautifully restored Chinese courtyard building first built in the Qing Dynasty. 
 
Although Chinese Emperors have previously stayed at the Daci Temple, The Temple House evokes the modest houses provided for scholars who came from different parts of the world to study at the Temple. The hotel continues this tradition of humility by creating understated luxury experiences and deeply personalized service for every guest.
 
Two L-shaped towers that house 100 guest rooms and 42 adjoining serviced apartments known as The Temple House Residences make up The Temple House. 
 
Beyond the green landscapes and courtyards, the hotel has been designed with LEED ND Gold and Chinese Green Building Evaluation Label 2-Star certification in mind and has incorporated several sustainable features into its design. Guests will also enjoy a dynamic collection of restaurants, stylishly designed by AvroKO including:

Tivano: Offering dishes from Italy 
The Temple Cafe: With all-day dining
Jing: Offering guests a taste of Chengdu nightlife, featuring a DJ, handcrafted drinks and a selection of international beers
The Temple House's urban day spa, Mi Xun is the hotel's oasis and will offer a variety of relaxing treatments, an indoor swimming pool, fitness center and retail store. The TEAHOUSE at Mi Xun is the highlight of the spa experience. Guests are immediately immersed in its Zen-like design. Inspired by traditional Chinese apothecaries and the healing power of plants, the wood-lined tea room opens into a lush outdoor courtyard.
About The House Collective
The House Collective, including The Opposite House, The Upper House and The Temple House, is a group of small, individual hotels in Asia for seasoned travellers who seek a different, intimate and personalized experience in luxury travel. Each with its own distinctive character and sense of style, The House Collective is a group of refined, highly individual hotels that defy comparison.
 
For more information, please visit http://www.the-house-collective.com and http://www.thetemplehousehotel.com
 
About Swire Hotels and Swire Restaurants
Swire Hotels has been created to manage soulfully individual hotels in Hong Kong, Mainland China, the United Kingdom and the USA, providing a characterful experience for well traveled individually minded travellers who seek originality, style and personalized service. We create distinctive hotels with a sense of place that break with convention.
 
The company's first hotel, The Opposite House in Beijing, opened in 2008 and was followed by The Upper House, Hong Kong, and then by EAST, Hong Kong and EAST, Beijing. The Temple House in Chengdu opened in July 2015. EAST, Miami is due to open in Q4 2015.
 
Swire Hotels has also created a stylish collection of locally inspired hotels in the UK: the first Chapter Hotel, The Montpellier Chapter, opened in Cheltenham in 2010 and was followed by The Magdalen Chapter in Exeter. 
 
A restaurant division was set up in 2013 to manage the company's stand-alone restaurant operations.  Our first restaurant Plat du Jour opened in November 2013 followed by Public and Ground Public in Quarry Bay and The Continental in Pacific Place which opened in October 2014.
 
About Sino-Ocean Taikoo Li Chengdu
Sino-Ocean Taikoo Li Chengdu is a 250,000 sqm (approx. 2,710,000 sq ft) mixed-use development located in the heart of Jinjiang District, south of Dacisi Road, east of Shamao Street and close to the popular Chunxi Road shopping area.  The project comprises an over 100,000 sqm (over 1,140,000 sq ft) open-plan low-rise retail mall; a 100-room intriguing urban hotel, The Temple House, managed by Swire Hotels; 42 serviced apartments as well as a 47-storey Grade A office tower, Pinnacle One.  The complex will be conveniently accessible from the interchange station of Metro Lines 2 and 3.
 
Sino-Ocean Taikoo Li Chengdu embraces the historic Daci Temple and takes pride in the reinvigoration of surrounding heritage buildings.  Welcoming lanes, courtyards, plazas with architecture inspired by traditional and modern streets in the east and west make it unique in Chengdu. Sino-Ocean Taikoo Li Chengdu won the Silver Award for Best Urban Regeneration Project in MIPIM Asia Awards 2012.
 
Scheduled for a phased opening from 2014 onwards, Sino-Ocean Taikoo Li Chengdu between Swire Properties Limited and Sino-Ocean Land Holdings Limited.