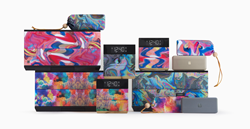 They look as captivating as they sound.
LOS ANGELES (PRWEB) July 29, 2015
Soundfreaq, maker of the critically acclaimed line of wireless speakers, is teaming up with Clashist, a popular LA-based fashion and accessory company known for its progressive and creative digital prints, to launch a limited edition line of Soundfreaq's award-winning speakers. The Soundfreaq x Clashist Collection includes three Clashist designs on Soundfreaq's Sound Rise and Sound Platform 2, and three custom Clashist pouches bundled with Soundfreaq's ultra-portable, Bluetooth speaker Pocket Kick. The limited edition line is available now on Soundfreaq.com and Clashist.com.
Clashist, founded in 2013 by Heather Lipner, quickly gained popularity for its line of digitally printed apparel, inspired by pop culture with its progressive prints and nostalgic motifs. The Soundfreaq x Clashist Collection combines Clashist's hyper-real designs with Soundfreaq's highly praised line of Bluetooth speakers to serve the fashion forward, stylish music lover.
"The Clashist prints turn our speakers inside out. They bring the vibrancy, detail and impact of the sound we strive to craft to the visual with color and pattern," said Matthew Paprocki, co-founder and creative director of Soundfreaq. "LA is full of bold, personal expression and unexpected juxtapositions. Together we embraced that spirit and are delighted to share these designs."
The Soundfreaq x Clashist Collection includes three Clashist prints that demonstrate strong, beautiful movement. Oil Slick captures the memory of the day after a heavy rainstorm, Sand Art shows the blend of colors the minute sand starts to mix together and Utopia represents a fantastic new world when autumn begins.
"This is an exciting collaboration for Clashist because I've definitely thought of Clashist as a graphic focused company, not necessarily tied to apparel," said Heather Lipner, creative director and founder of Clashist. "I love that our prints are now on Soundfreaq's speakers, they look as captivating as they sound."
All three prints are featured on Soundfreaq's Sound Rise and Sound Platform 2, and on custom pouches that are bundled with Soundfreaq's Pocket Kick. And just as Soundfreaq's speakers are meticulously sound crafted, each Clashist unit is handcrafted, making each speaker pattern unique, so no two speakers are alike.
Sound Rise, named a CES "Best in Show" finalist by iLounge, is Soundfreaq's modern bedroom speaker and alarm clock packed with tons of smart features for the modern music lover. Sound Rise streams award-winning audio via Bluetooth and is equipped with a universal USB power port, allowing users to charge their smartphones with ease. Sound Rise also offers dual alarms with weekday/weekend settings that even allow users to wake to their own music with gradually increasing volume. Each Clashist Sound Rise will retail for $100.
Sound Platform 2 is Soundfreaq's most powerful Bluetooth speaker, designed to be the ultimate home system with immersive stereo and studio-like clarity. Sound Platform 2's features include dual USB charging ports, allowing not just one, but two smartphones or tablets to charge simultaneously. For an even more immersive listening experience, Sound Platform 2 features DSS (Dual System Streaming), allowing two systems to be paired together, working as one speaker system with left and right audio, filling a room with powerful, balanced sound. Each Clashist Sound Rise will retail for $200.
Pocket Kick, name "Speaker of the Year" by iLounge, is Soundfreaq's ultra-portable Bluetooth speaker designed to allow consumers to listen and share their favorite songs with friends, anywhere and everywhere. Pocket Kick streams music via Bluetooth 4.0 and with its two custom drivers, pumps out impressive sound for its small size that's surprisingly loud, full and clear. Pocket Kick is equipped with a rechargeable battery for up to 10 hours of playtime. It also has a built-in microphone, making it easy to take calls wirelessly. Each Clashist Pocket Kick pouch will retail for $100.
For product images and one-sheets please go to: http://www.soundfreaq.com/press.
About Soundfreaq (http://www.soundfreaq.com):
Soundfreaq is a global co-op of craftsmen – designers and engineers – with deep expertise in consumer electronics and a passion for great sound. By working outside the limitations of a traditional corporate structure, Soundfreaq is able to develop products from the ground up that deliver premium sound for a wireless world and provide maximum value to consumers. All Soundfreaq speakers stream audio wirelessly, making every product compatible with today's and tomorrow's wireless devices. The company has been honored with multiple awards for its highly praised wireless speakers, including the "Mashable Choice" award in 2013, "Best in Show" from iLounge at CES 2012 and 2013 and "Gear of the Year" from WIRED Magazine in 2011. Twine International and LA-based creative incubator Goodhatch created Soundfreaq in November 2010.
About Clashist (http://www.clashist.com):
Clashist is a line of digitally printed apparel founded in late 2013. Inspired by pop culture, the brand quickly found success with its progressive prints and nostalgic motifs. Every piece from the collection is designed, sewn, and printed in Los Angeles, CA. The line is available at clashist.com among other retailers such as Space15Twenty, Kitson, Nylon, Modcloth & Forever21.