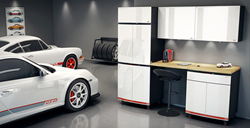 Contur is adding 3D cabinet rendering service, which will allow a client to see the cabinetry at work in their space before committing to an order
GAITHERSBERG, MD (PRWEB) July 22, 2015
Potomac Garage Solutions, the Gaithersburg, MD based garage organization and garage remodeling company, will carry Contur's new licensed and branded garage cabinetry offering when it launches in late summer or early fall 2015.
Contur has signed an agreement with FCA Chrysler Group that allows them to add licensed cabinetry for FCA Chrysler Group's Dodge, Viper, SRT, Ram Truck, Chrysler and Plymouth and all vintage and sub-brands/dresses to all of Contur products. The cabinetry will be a particular asset to dealerships selling the brands that are included within the deal.
Contur has also developed technology to add custom corporate branding to their products, which means it is now possible for any company or individual to order fully branded cabinetry that features their logo or art worked right into the design of the piece.
In addition to branding advances, Contur is adding 3D cabinet rendering service, which will allow a client to see the cabinetry at work in their space before committing to an order. 3D cabinet rendering is of particular interest to homeowners who are in the process of a complete garage renovation, as it lets them visualize in a very real way what the end product will look and feel like.
Potomac Garage Solutions is based in Gaithersburg, MD and has showroom locations in Maryland, New York, and Florida. The company services Maryland, Virginia, Washington DC, the greater New York City area, Miami, and Fort Lauderdale.