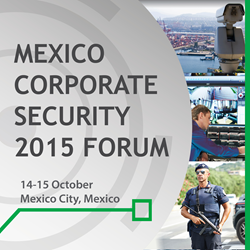 It's an IRN Summit!
London, UK (PRWEB UK) 21 July 2015
Mexico's bloody gangland warfare has cost an estimated 80,000 lives since 2006 and the escape of Joaquín "El Chapo" Guzmán from the maximum-security prison of Altiplano last Saturday once again highlights the enormous power and influence the drug cartels exercise over the country.
'El Chapo' leads one of the most powerful and structured drug organisations in Mexico, the Sinaloa Cartel, but many other groups have recently emerged and are vying for power, destabilising Mexico's National Security in the process. The Jalisco New Generation Cartel (CJNG), based in Jalisco state in central Mexico, has been targeting Mexico's Federal Government since 2010, with repeated attacks to the federal security forces; last April, 15 federal police agents were killed, and later in May the drug cartel shot down an army helicopter.
Cartel-related violence and corporate security in response to it will be at the center of discussion at the Mexico Corporate Security 2015 Forum, where a session will explain the challenges when operating in high risk environments and detail how the corporate security team should be prepared to face those risks associated to narco-terrorism.
Other speaking companies at the high level conference include: Amazon, ExxonMobil, Banco de Mexico, BP, Sony Electronics, Volkswagen Mexico, Pemex, Control Risks, Technip Mexico, Fluor, Gemalto, Flextronics, World Bank, Cargill, Delta Airlines, Institute of Americas, Association of Certified Fraud Examiners Mexico City and Monsanto Company.
The Mexico Corporate Security 2015 Forum is sponsored by the security, crisis management, and emergency response provider, AFIMAC; and the consulting solutions company, Cerberus. The meeting is also supported by the Supply Chain Security Council and ALAPSI (Latin American Association of Information Security Professionals).
More information about this forum is available on the website: http://www.mexicosecurityforum.com