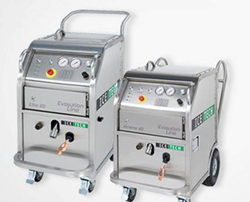 The Evolution Line was designed to fit the needs of our US customers, and has been tried and tested in several US production facilities across the country. So far demand has been through the roof, says IceTech America, Inc. president and CEO, Dennis Hjort
West Chester, Ohio (PRWEB) July 22, 2015
IceTech, the worldwide leading manufacturer of dry ice blasting and dry ice production equipment announces the new Evolution Line will be rolling into US based production facilities this month. The new product line combines versatility and solidity with a new design. The Elite 20 and Xtreme 40 are the world's first multi-power dry ice blasting machines created to provide customers the most powerful and cost-effective solution on the market.
"The Evolution Line was designed to fit the needs of our US customers, and has been tried and tested in several US production facilities across the country. So far demand has been through the roof", says IceTech America, Inc. president and CEO, Dennis Hjort.
The Evolution Line provides a revolutionary dry ice blasting experience. Its functionality and versatility makes it suitable for both lighter applications and heavy duty cleaning. Equip with a powerful 24V motor, the Evolution Line ensures uninterrupted cleaning. Downtime and maintenance costs are reduced with the new, quick change dosing disc, which allows for a faster replacement. The insulated dry ice hopper extends the life of the dry ice, and provides trouble-free blasting. The Evolution Line is designed with a stainless steel frame that provides a high strength, scratch-resistant machine that can keep up with the toughest conditions.
The Evolution Line joins the IceBlast KG6 to form a family of machines that can conquer any cleaning challenge in any industry.
About IceTech
IceTech is a worldwide leading manufacturer of high performance, reliable dry ice blasting, dry ice production equipment and complete automated solutions. IceTech has continued to lead the industry with technology and support unmatched by anyone since their founding year. Through their network of distributors and direct sales force, IceTech has supplied equipment all over the world.
IceTech Dry Ice Blasting
The Evolution Line utilizing the innovative dry ice blasting process, a method that provides a way to clean equipment with a nonabrasive media that is eco-friendly and void of secondary waste. Utilizing dry ice pellets made from recycled Carbon Dioxide, dry ice blasting offers a superior cleaning experience compared to other methods. The dry ice pellets sublimate, or turn back into Carbon Dioxide gas, when they come into contact with equipment, providing a multitude of environmental benefits. The production of dry ice gives the recycled CO₂ a "second life" before it is released into the atmosphere, thereby delaying its effects on the environment. Dry ice blasting also supplies an environmentally responsible alternative to other cleaning methods that utilize hazardous chemicals and solvents.