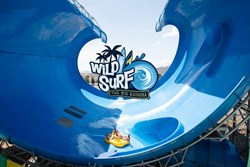 The world's largest manmade "wave." Named at Cowabunga Bay as the "Wild Surf," the slide was designed and supplied exclusively for the park by Polin
Istanbul, Turkey (PRWEB) July 23, 2015
Guests experience the world's largest manmade parabolic 'wave' on ride that was designed and created exclusively for the Vegas waterpark.
Two new waterslides at Cowabunga Bay, a first-class waterpark in Las Vegas, opened for its 2015 season.
One of those attractions is particularly gaining acclaim: the Surf Safari.
Two records, one slide
Not only is the Surf Safari the first of its kind to ever open in the United States, but it also features the world's largest manmade "wave." Named at Cowabunga Bay as the "Wild Surf," the slide was designed and supplied exclusively for the park by Polin Waterparks.(Cowabunga Bay is Polin's first turnkey waterpark project in the United States.)
The giant slide features a daring, 40-degree sloped entrance and a unique, parabolic design. The high-capacity ride begins with a long, rushing trip through the dark that adds to the adrenalin-filled experience. Guests then drop a dizzying 55 feet (16.76 meters) through an enclosed flume before entering the swell of a mammoth wave where they catch some heart-pounding "hang time." Twisting and turning as they continue along the ride's path, they speed through numerous unexpected changes in momentum before shooting through the wave's crest. Then, drenched by a water shower spilling from the lip of the wave, they slide from side to side, forwards and backwards, before finally splashing into the exit.
The slide's exhilarating trip - nearly 195 feet (29.25 meters) - results from its streamlined, parabolic, bowl-shaped design. The unique slide path is created from 31 tons of fiberglass.
While Surf Safari has a beach theme at Cowabunga Bay, it can be designed to match any park's concept. Plus, the ride can be created in a variety of versions, including with half-open, half-closed and fully closed tunnels with our without the waterfall feature.
Giving guests an unforgettable ride
Shane Huish, the park's general manager, says having a ride that is the only one of its kind in the U.S. was definitely a plus. But it was the attraction's "incredible" slide path that got owners' interest.
"The Surf Safari is unlike any other waterslide we'd ever seen," Huish explains. As general manager of the Vegas park, as well as his family's facility with the same name in Draper, Utah, Huish knows of what he speaks. His family also runs three entertainment centers, two in suburban Seattle and one near Portland, Ore.
"Not only does the Surf Safari give guests a longer ride than other slides I've seen with similar features, but it has supercreative extras," he explains. "And it all starts from the moment guests reach the top of the slide tower. Up there, the adrenaline really gets pumping, because they get a bird's-eye view of what's ahead of them. They can look down into the funnel and see the dizzying ride below. And when they hit splash down? All we hear are, 'Wow! I've gotta do that again!'"
Stars celebrate new ride's opening
When Cowabunga Bay debuted the Surf Safari, it invited a variety of celebrities to help commemorate the event. Special guests included the Chippendales male dancers; Lisa Marie Smith, the lead of the Vegas show, "Pin Up;" the Vegas casts from "Rock of Ages," "Human Nature," "Defending the Caveman" and "Marriage Can Be Murder;" comedy hypnotist Anthony Cools; and movie star Pia Zadora.
The celebrities joined park guests in zipping down slides, surfing the waves and floating down the leisure river.
Keeping up the momentum for guests
While Surf Safari might have been enough to garner loads of guest interest in coming back for the 23-acre park's second season, Cowabunga Baydidn't stop there. Instead, it added another ride to the park's 25+ attractions, four surf-and-swim pools, an interactive kids' play area with 10 pint-sized slides and tipping buckets and the longest leisure river in Nevada. The new attraction? Polin's Family Rafting Slide, which the park named "Beach Blanket Banzai."
The Family Rafting Slide, the first and only resin transfer molded (RTM) -manufactured family slide in the industry, delivers Nevada's longest adrenaline rush. Guests splash along a 9-degree slope at 8.5 miles per second and through more than 600 feet (188+ meters) of twists and turns, wild "S" curves and an overall 60-foot (16.76-meter) change in elevation.
Looking good for the long term
While the adventurous slide paths offered by the Surf Safari and the Family Rafting Slide were their main attractions to Cowabunga Bay's owners, another reason Huish says they chose to work with Polin was due to the firm's technological expertise in manufacturing processes. The slides, like all of those built by Polin, feature its patented Magic Shine Finish by RTM (Resin Transfer Molding) technology.
Because the park has a nostalgic beach theme, bright and whimsical colors and graphics are particularly important in maintaining its appeal.
More about Cowabunga Bay
Segmented into three areas, the park includes:

Aloha Shores, a Hawaiian-themed family-friendly area that includes the Cowabunga Kids Cove, a large play area for children. This section features a giant, heated, shallow pool with 10 mini waterslides, waterfalls, tipping buckets and the Guppy Racer, a scaled-down version of the park's giant racer slide. The area is accessed via one controlled entrance and exit and features seating, shade and rental cabanas for adults.
Surf City U.S.A., a retro-inspired zone reminiscent of 1950's California beach-themed movies.
The Boardwalk, an area that pays tribute to Atlantic City and the Jersey Shore.
The park, which was master-planned and plumbed for additional future expansion, also features dozens of other rides and attractions in addition to the Surf Safari and Family Rafting Slide:

Surf-a-Rama Wave Pool. Set amidst a 1950's drive-in theater, this 35,000-square-foot wave pool - one of the largest in Nevada and the centerpiece of the park - rocks heated water into waves up to 4 feet high. Little ones can splash and play as waves break on the beach.
Zuma ZOOMa. Designed for thrill seekers, this slide (Polin's Looping Rocket) is the park's tallest attraction and features a unique "launch capsule" 73 feet in the air with a trap door on which riders stand. When the door drops open, riders are sent on a thrilling adventure via a high-speed, horizontal, 360-degree loop.
Point Panic. Riders on this slide (Polin's Black Hole) experience a midnight surf-run down a fully enclosed, pitch-black waterslide featuring Polin's unique Natural Light Effect technology.
Surfin' USA. This one-of-a-kind racing slide (Polin's Uphill Multisurf) allows six guests at a time to plunge face-first downhill from the 55-foot start point. Then, it's up and over a unique speed bump finale.
Rock-a-Hoola. Riders brave a 300-foot-long slide (Polin's Space Boat) before entering a giant bowl and whirling around for several revolutions before a thrilling splashdown.
Surf-a-Go-Go. This 600-foot-long slide (Polin's Space Shuttle) features two giant "rebound chambers" that cause riders to climb the walls and rebound from side to side.
Cowabunga River. Riders floating on this heated leisure river will cruise by giant surfboards, water features and a groovy '67 VW bus.
Boardwalk Bay. Relaxation rules in this carefree pool. Guests splash in playful fountains or simply enjoy the sun as they float their cares away.
Cowabunga Splash. This waterplay structure (Polin's Aquatower), designed with kids in mind and part of the park's Phase 2 expansion, features six stories of bridges, tunnels, net climb and water toys.
For more information, please visit Cowabunga Bay web page or facebook page
About Polin Waterparks
Polin was founded in Istanbul in 1976, and has since grown into a leading company in the waterparks industry. Today Polin is one of the world leaders in the design, production, and installation of waterparks, waterslides & water play attractions. 2500 waterpark projects in more than 93 countries around the world have been completed by Polin, and Polin is the biggest waterslide supplier in Eurasia. Working with a wide variety of clients has helped Polin reach several milestones; including installing the first waterparks of many countries and many other award winning rides at parks with world-renowned reputations. Polin offers the industry's widest range of products, including signature rides such as the patented King Cobra, Magic Spheres, Spheres, Magi Cone and Space Shuttle.
Polin is the pioneer in the advancement and application of closed-molded manufacturing technology in waterslide development. First implemented in 2006, 100% of Polin's annual fiberglass production has been converted to resin transfer molding (RTM), and meets the industry's highest standards. Polin offers both bowl rides and family rides featuring RTM techniques. Polin also offers its unique and patented Natural Light Effect technology, Special Pattern Effects technology in RTM and translucent RTM waterslides. Polin is an ISO9001 certificate holder by TUV Germany since 2003, all Polin slides conform to European norms, all steel parts conform to international DIN standards, all designs conform to ASTM practices, and Polin is also CSEI approved for projects in China. Polin is the only waterslide company that holds a quality certificate for all of its waterslides by TUV, and was the 2012 Export Winner of Turkey in the SMSE Category. Polin has a high plant capacity with production in Turkey. Polin's team totals 350 people, with five offices throughout the world.
Polin is committed to providing the best-quality product and service by investing in continuous research and development. The company plans to further expand its L-RTM line while introducing new signature rides and innovations.For more information, visit http://www.polin.com.tr