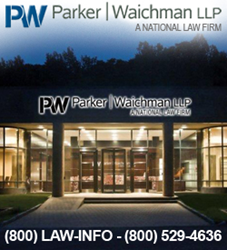 Appellate decisions such as this send a strong message that manufacturers will be held responsible for failing to warn about the risks
Port Washington, NY (PRWEB) July 21, 2015
Parker Waichman LLP, a national law firm that is actively involved in Actos (pioglitazone) litigation and which has long been dedicated to protecting the rights of victims injured by defective drugs and medical devices, is commenting on recent developments involving the first Actos lawsuit to go to trial. According to court documents, a California appeals court reinstated the $6.5 million verdict. The case is Nancy Cooper et al. v. Takeda Pharmaceuticals America Inc. et al., case number B250163, in the Court of Appeal of the State of California, Second Appellate District, Division Three. The original case, Cooper v. Takeda Pharmaceuticals America Inc., Case Number CGC-12-518535, Superior Court of the State of California, County of Los Angeles, was filed on behalf of a couple who alleged that Actos was to blame for the man's terminal bladder cancer. The case was heard prior to thousands of others brought over Actos due to the man's grave condition. Court documents indicate that, in April 2013, a verdict was issued against Takeda in the first Actos lawsuit to go to trial over allegations that Takeda failed to adequately inform about the link between Actos and bladder cancer. The jury awarded the plaintiffs $6.5 million—$5 million to the man and $1.5 million to his wife pertaining to her loss of consortium.
According to court documents, the $6.5 million verdict was tossed five days after it was issued, with a trial judge finding that an expert's testimony was speculative. Now, however, that decision has been reversed and the verdict has been reinstated. The appeals court found that the lower court erred and exceeded the boundaries of its function when it required the expert to rule out all other potential causes of bladder cancer, despite a lack of evidence for other causes.
"We applaud the appeals court's decision to reinstate the Actos verdict," said Matthew J. McCauley, Senior Litigation Counsel at Parker Waichman LLP. "This ruling honors the jurors that spent so many hours and days in this case and their methodical review of the evidence before they found in favor of the plaintiffs."
Parker Waichman remains actively involved in the multidistrict litigation (MDL). Jerrold S. Parker, founding partner of the firm, has maintained a leadership role throughout the litigation by serving on the Plaintiff's Steering Committee. Parker Waichman has also filed numerous lawsuits on behalf of individuals who developed bladder cancer, allegedly due to their use of the Type 2 diabetes drug, Actos.
"This decision is yet another example of the judicial system at the trial and appellate levels attributing liability for injuries caused by Actos," said Gary Falkowitz, Managing Attorney at Parker Waichman LLP. "Appellate decisions such as this send a strong message that manufacturers will be held responsible for failing to warn about the risks."
Court dockets reveal that there are over 3,500 Actos lawsuits consolidated before U.S. District Judge Rebecca Doherty in Lafayette, Louisiana for pretrial discovery. An additional 4,500 cases have been filed in state courts in Illinois, West Virginia, California, and Pennsylvania, according to court records.
Parker Waichman continues to offer free legal consultations to victims who suffered bladder cancer after using the diabetes medication, Actos. If you or a loved one were diagnosed with bladder cancer following Actos treatment, please visit the Firm's Actos Injury page or, for a free case evaluation, call 1-800-LAW-INFO (1-800-529-4636).