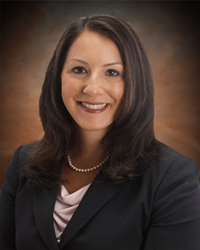 Carrie's client-focused approach and deep relationships with transportation leaders throughout the region are important assets
HARTFORD, Conn. (PRWEB) July 21, 2015
Carrie Rocha, PE, has joined HNTB Corporation as Connecticut office leader and associate vice president. She brings almost 20 years of experience in transportation infrastructure project and construction management, contract administration and engineering for highways, bridges, tunnels, transit/rail, aviation and related facilities.
"Carrie's client-focused approach and deep relationships with transportation leaders throughout the region are important assets," said Steve McElligott, PE, HNTB Northeast Division president. "Connecticut is launching a new era in transportation planning and infrastructure development, which will create new and innovative mobility solutions that will benefit the state and the entire northeast region."
Rocha's background includes serving as program director on the CTfastrak project, central Connecticut's first bus rapid transit system. In that role, she led an integrated team with the Connecticut Department of Transportation to complete design, execute construction and plan bus operations, outreach and marketing efforts.
A registered professional engineer, Rocha is a graduate of Worcester Polytechnic Institute (Worcester, Mass.) with a Bachelor of Science in civil engineering. She is vice president of the Connecticut chapter of the Construction Management Association of America and has held numerous leadership roles with both the Connecticut and Boston chapters of the Women's Transportation Seminar.
HNTB currently is designing and implementing major infrastructure projects for the Connecticut Department of Transportation, including the WALK railroad bridge, construction engineering and inspection services for the Moses Wheeler Bridge replacement project, and engineering services for the New Haven-Hartford-Springfield rail corridor and railroad construction engineering and inspection services.
About HNTB
HNTB Corporation is an employee-owned infrastructure solutions firm serving public and private owners and contractors. With more than a century of service, HNTB understands the life cycle of infrastructure and addresses clients' most complex technical, financial and operational challenges. Professionals nationwide deliver a full range of infrastructure-related services, including award-winning planning, design, program management and construction management. For more information, visit http://www.hntb.com.