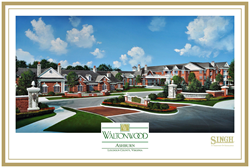 West Bloomfield, MI (PRWEB) August 04, 2015
Michigan-based Singh Development is pleased to announce the start of construction of its first senior living community in northern Virginia, "Waltonwood Ashburn," located at the southeast corner of Ashburn Village Boulevard and Russell Branch Parkway, just south of Route 7, in Ashburn, VA. The project will consist of a total of 213 units and include 114 independent living apartments, 72 assisted living units and 27 memory care units. The units will be fully integrated into a 287,000 square foot community on a 14.9 acre site with preserved woodlands and wetlands to add to the ambiance of the living environment. Located across the street from the Harris Teeter anchored Ashbrook Commons Shopping Center and minutes from the Inova Loudoun Hospital and the new 'One Loudoun' major, mixed-use community to the east, Waltonwood Ashburn is ideally located within the Ashburn community. At capacity, Waltonwood Ashburn will employ at least 150 associates.
Waltonwood Ashburn will include amenities comparable to a continuing care retirement community, with a rental structure. Restaurant-style dining, a café, billiards and games room, home theatre, arts and crafts, greenhouse, dog park, state of the art fitness center and a salt water swimming/therapy pool are just a few of the amenities that are a part of Waltonwood. In addition, each service offering at Waltonwood (independent living, assisted living and memory care) has its own enclosed courtyard to provide private and secure outdoor enjoyment for residents.
Waltonwood Ashburn is the first community in Singh's development plan for expansion into the northern Virginia and the greater Washington, DC market and its 11th overall Waltonwood community. A second Waltonwood senior living community is planned in the South Riding area of southern Loudoun County for next year. It will be located at the southeast corner of Tall Cedars Parkway and East Gate View Drive, just south of Route 50 and minutes from the new StoneSprings Hospital Center.
Singh was established in 1973 by Gurmale Singh Grewal along with his brothers, Lushman and Jeat, and continues to be a family owned company. Singh is multifaceted in real estate development, with a strong foundation in luxury apartments, commercial properties, land development, high-end single family homes and, for nearly 30 years, senior living communities which have been branded "Waltonwood." The vertical integration of the company, which provides for development, construction, finance and management under one umbrella, allows Singh to be poised for new opportunities in expanding markets like northern Virginia. All projects are wholly owned by Singh and continue to be owned and managed by the Singh management entities, including Singh Senior Living for all of the Waltonwood communities.
With southeast regional offices in Cary, NC, Singh has made a strong commitment to expansion of its brand into the southeast markets. Waltonwood already has a presence in the Raleigh and Charlotte markets of North Carolina and Singh's expansion into northern Virginia is the beginning of the plans for at least 10 new Waltonwood communities in the greater Washington, DC market. Learn more about Singh and its Waltonwood communities at http://www.singhweb.com and http://www.waltonwood.com. Information about Waltonwood Ashburn can also be obtained at the leasing center on Russell Branch Parkway, across from the Waltonwood Ashburn site, or by calling Ardell Fleeson at 571-918-4854.