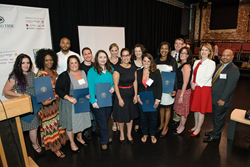 The entrepreneurs who entered the Start Something Challenge this year were nothing short of incredible. We are really looking forward to hearing the 10 pitches at the Grand Finale, which promises to be the most exciting one yet!
Jersey City, NJ (PRWEB) July 21, 2015
Yesterday, after four weeks of creating and marketing their business videos, 10 New Jersey entrepreneurs advanced to the final round of Rising Tide Capital's (RTC) Start Something Challenge (SSC) business pitch competition. In the semifinal round of the Challenge, which ended Sunday at noon, the 30 semifinalists' business videos were hosted on the SSC website for public viewing and voting. During the Grand Finale ten finalists will pitch their business ideas live before a panel of expert judges for the opportunity to win $23,500 in cash prizes for their business.
The mission of the competition is to encourage entrepreneurs to utilize online and offline marketing tools to promote their businesses and increase customer engagement. This year, the 30 semi-finalists used a variety of social media tactics, email marketing, text messaging campaigns and some even placed articles in their local media channels to not only promote their SSC videos but also their small businesses. In total, the semi-finalists garnered 15,210 votes while the initial 88 SSC participates received a total of 46, 203 views on their Youtube videos in the first round.
"The entrepreneurs who entered the Start Something Challenge this year were nothing short of incredible. They were determined, resourceful individuals, who came up with some really creative ways to keep the momentum going and get the word out about their businesses. We are really looking forward to hearing the 10 pitches at the Grand Finale, which promises to be the most exciting one yet!" said Justyna Krygowska, Communications Manager at Rising Tide Capital.
The Grand Finale and live pitch will take place at New Jersey City University on July 28 to determine the three winners who will be recognized and be awarded $22,500 in cash prizes at Start Something Champions Gala on November 5. Rising Tide Capital will offer each finalist one-on-one coaching with business experts during a 3-hour pitch tutorial to assist them in perfecting their 6-minute business pitch. Each finalist will be required to deliver a 5-minute business pitch followed by a 3-minute Q&A from the judges.
"We are really excited about this diverse panel of judges that we've recruited for the Start Something Challenge," said Esther Fraser, director of communications at Rising Tide Capital. "We hope to leverage their collective business experience to benefit every entrepreneur in the competition."
The 2015 Start Something Challenge judges include:
Tiffany Aliche, The Budgetnista
Ralph Anderson, Managing Director, The Green Group
Jonathan Coleman, Director of Programs, ASSETS
Michellene Davis, Executive Vice President of Corporate Affairs, Barnabas Health
Richard Fonte, Senior Vice President, Business Banking Market Manager, JPMorgan Chase Bank N.A.
Anthony Frasier, Co-founder, The Phat Startup
Himanshu Kalra, Vice President, Learning and Development Manager, PIMCO
Cyndi Knapic, Head of Animoto for Business, Animoto
Ava Schlesinger, Clinical Director, Domestic Abuse Sexual Assault Crisis Center Warren County
Steve Schlesinger, CEO, Schlesinger Associates
Marcos Vigil, Deputy Mayor, The City of Jersey City
The Start Something Challenge Finalists are:
Angela Huggins, Angel Hugs 4 All
Omar Ruffin, Biarte Biker Gear Corporation
Tina Bologna, Just Jersey
Dawn McLaughlin, Positively Publishing Kids
Myani Lawson, Bergen-Lafayette Montessori School
Crystal Jones, Loving Heart Patient Advocacy
Karla Jimenez, Caídos del Cielo Bakery
Adrienne Fudge, Meals Express
Ken Pickett, Think Forward Innovations, LLC
Jennifer Henry, HillPoint Preparatory
Rising Tide Capital (RTC) is a Jersey City-based nonprofit organization founded in 2004 by Harvard graduates Alex Forrester and Alfa Demmellash. RTC helps entrepreneurs start and grow successful businesses by providing a 12-week Community Business Academy—supplemented by year-round workshops, coaching and networking events. These programs are currently offered in Spanish and in English in four cities across Northern New Jersey: Jersey City, Newark, Union City, and Orange Township. As of January, 838 entrepreneurs have graduated from the CBA and together, they operate over 403 businesses in New Jersey. RTC's model of entrepreneurship development has received national recognition from President Obama to CNN Heroes.
To learn more, visit http://www.RisingTideCapital.org.
###