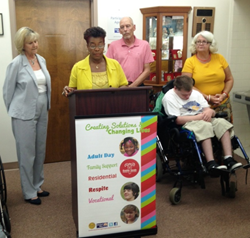 Albany, Georgia (PRWEB) July 25, 2015
Easter Seals Southern Georgia and Albany ARC provide exceptional services to ensure that all people living with disabilities or special needs, and their families, have equal opportunities to live, learn, work, and play in our community. Together we celebrated the anniversary with individuals with disabilities.
The Americans with Disabilities Act (ADA), was signed into law on July 26, 1990, represents a milestone in equality, modeled after the 1964 Civil Rights Act, and is considered the first affirmation for equal treatment under the law for Americans with mental and physical disabilities.
On July 26th, 2015 we celebrate the 25th anniversary of the ADA which prohibits discrimination against people with disabilities in education, employment, government services, at places of public accommodation, commercial facilities and in other important areas of society. The ADA has expanded opportunities for Americans with disabilities by reducing barriers and changing perceptions, and increasing full participation in community life.
Easter Seals Southern Georgia creates solutions that change the lives of children, adults and families with disabilities or special needs by offering a variety of programs and services that enable individuals to lead lives of equality, dignity and independence. For more information, visit us online at http://www.southerngeorgia.easterseals.com or call us (229)439-7061.
The Albany Advocacy Resource Center creates life changing solutions for people with disabilities. Our Vision is to see people of all abilities experience the same opportunities, rights and freedoms as inclusive members of the community. For more information visit http://www.albanyarc.org/ or call us at (229)888-6825.