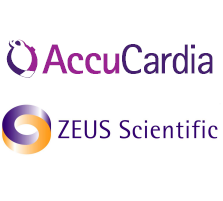 (PRWEB) July 23, 2015
ZEUS Scientific has been notified by the American Medical Association (AMA) that the Current Procedural Terminology (CPT) Editorial Panel has accepted its request to add code 0423T to report a test for measurement of secretory type II phospholipase A2 (sPLA2-IIA) protein for assessment of level of risk for cardiovascular event. The code has been posted to the AMA CPT website with an effective implementation date of January 1, 2016.
Category III CPT codes are temporary tracking codes that allow data collection for new and emerging technology, services and procedures. These codes are intended to be used for data collection to substantiate widespread usage or to provide documentation for the Food and Drug Administration (FDA) approval process. Category III codes are not developed as a result of Panel review of an incomplete proposal, the need for more information, or a lack of CPT Advisory Committee support of a code change application.
This is the first application by ZEUS Scientific for a CPT code. It represents another step for the company delivering on its strategic initiative to expand into the cardiovascular disease diagnostic market with novel, unique biomarkers. It also represents another key step in the FDA approval process for AccuCardia, the ELISA test system utilizing sPLA2-IIA. ZEUS continues to work in providing physicians with better tools to more accurately stratify patient risk profiles and apply appropriate therapies for enhanced patient care.
ZEUS Scientific will be promoting AccuCardia at the upcoming American Association for Clinical Chemistry Clinical Lab Expo (booth #1235) and European Society of Cardiology Congress (stand #D630).
For more information about AccuCardia contact Brett Booth (Director of Business Development and New Product Sales) info(at)accucardia(dot)com or visit http://www.accucardia.com.
About ZEUS Scientific
ZEUS Scientific is your first choice for high-performing, easy-to-use clinical diagnostic solutions. Our products are designed and manufactured to ensure optimal efficiency and accurate diagnosis to facilitate better patient care. ZEUS Scientific is based in Branchburg, New Jersey and markets test systems around the world through an extensive distribution network. ZEUS complies with the international standard ISO 13485 (2003), Health Canada Medical Device Regulations (SOR/98-282, May 7 1998), the FDA Quality System Regulations (FDA Quality System Regulation, 1996: 21 CFR § 820), and the IVD 98/79/EEC.
For more information visit: http://www.zeusscientific.com or call +1 (908) 526 3744.