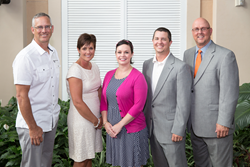 Minneapolis, MN (PRWEB) July 22, 2015
Jostens has announced the 2015 educators who were inducted into the Jostens Renaissance® Hall of Fame at the 24th annual Jostens Renaissance National Conference held July 16-19 in Orlando, Florida. The Jostens Renaissance Hall of Fame honor is presented to educators who demonstrate exceptional leadership by improving the school's climate and culture, which is tied to improvements in academic achievement. They have also made a significant impact supporting the program at both the state and national level.
In addition to the Hall of Fame inductee, four educators were named Jostens Renaissance Educators of the Year for implementing best practices that improved student success in their schools.
The Jostens Renaissance Hall of Fame inductee and Educators of the Year received honorary rings and awards from Chuck Mooty, president and CEO, Jostens; Ann Carr, chief marketing officer, Jostens; and Mike Wolf, director of Jostens Renaissance Education.
2015 Jostens Renaissance Hall of Fame Inductee
Phil Campbell, Portland High School, Portland, TN
2015 Jostens Renaissance Educators of the Year
Melinda Bloomquist, Mount Vernon High School, Alexandria, VA
Darrin Peppard, Rock Springs High School, Rock Springs, WY
Kim Sigler, Pocahontas Middle School, Henrico, VA
Chad Youngquist, Shelton High School, Shelton, WA
"Jostens is honored to recognize these outstanding and distinguished educators as members of the Jostens Renaissance Hall of Fame and Educators of the Year," said Mike Wolf, director of Jostens Renaissance Education. "The passion and dedication of these educators, along with educators all over the world, are the driving force in impacting students' academic performance, attendance and behavior. They have been instrumental in creating improved morale in their schools, which has resulted in raised GPAs, school attendance and graduation rates. They have also addressed the intangibles--they have worked with their school colleagues to create an environment where every student belongs, not just attends."
About Jostens Renaissance
For nearly 25 years, Jostens has partnered with educators to renew school climate and culture through the Jostens Renaissance. Thousands of schools across North America are proud to call themselves "Jostens Renaissance" schools, sharing a sense of pride that is reflected in the results seen in improved academic performance, behavior, student engagement, and overall school spirit.
More information about Jostens Renaissance is available at http://www.jostensrenaissance.com.
About Jostens
Minneapolis-based Jostens provides products, programs and services that help its customers celebrate moments that matter. The company's products include publications, jewelry and consumer goods that serve the K-12 educational, college and professional sports segments. Jostens serves markets in North America, Europe, Asia and Africa. Jostens is a subsidiary of Visant Corporation, a marketing and publishing services enterprise servicing the school affinity, educational and trade publishing segments.