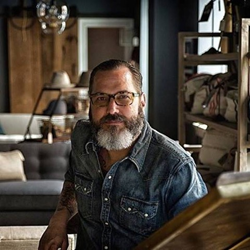 "We're thrilled Industrial Home was part of our interior design process in our salon and our home. We couldn't be happier with the finished products."
Frederick, Md. (PRWEB) July 23, 2015
A home designed by Christopher Ritchie, owner of Industrial Home in Frederick, Maryland and an emerging leader in interior design, will be featured on an episode of the long-running HGTV series, "House Hunters" in October. Ritchie spearheaded the design project from conception to installation.
The four-level townhome being showcased on the show belongs to David and Ana Maria Seifarth, owners of DNa Lab Organic Hair Chemistry salon in Frederick. The couple appeared on an episode of "House Hunters" back in 2011. After purchasing a new townhome several years later, the couple reached out to the HGTV representatives they'd worked with previously about featuring their new home and their salon, which was designed by Industrial Home. When HGTV decided to produce an episode about their townhome, the Seifarths asked Industrial Home to design their new space and participate in the filming process.
"Christopher and his team have delivered outstanding work," David Seifarth said. "We're thrilled Industrial Home was part of our interior design process in our salon and our home. We couldn't be happier with the finished products."
Ritchie and his team of designers created a bohemian chic atmosphere, complete with custom furniture and accessories, in the couple's new townhome.
"It was a wild three weeks, but we enjoyed every second of it," Ritchie said. "It was a privilege to work on this project."
Industrial Home is equipped to participate in projects of every size, scope and budget. A seasoned hospitality and trade designer, Ritchie has completed projects for Starbucks, Neiman Marcus and "Top Chef" finalist Bryan Voltaggio. Aside from standard design services, Industrial Home outsources and installs custom furniture for trade and hospitality clients. Catering to every vision, the firm creates customized products including shelving, desks, accessories and feature-wall installations.
To learn more about Industrial Home, visit http://www.industrialhome.com.
About Industrial Home
Headquartered in eclectic Frederick, Maryland, Industrial Home is an interior design firm servicing homes and businesses of all capacities nationwide. Striving for design excellence in all its home furnishings, standards and quality, Industrial Home aims to continuously introduce new and exciting collections of industrial chic, rustic and modern products and designs. Christopher Ritchie, owner and interior designer, has honed his skills designing for Starbucks, Neiman Marcus, Horchow, Westin Hotels & Resorts, "Top Chef" finalist Bryan Voltaggio's Family Meal in Baltimore, Paul Mitchell Salons (The Temple) and Restoration Hardware. To learn more about Industrial Home, visit http://www.industrialhome.com.
###
Media Contact:
Meghan Burket
meghan(at)platinumpr(dot)com
304.876.8321