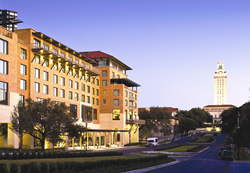 We designed The Modern Executive Series based on participant feedback. We heard from participants across all industries that they wanted additional time to delve into topics
Austin, Tx (PRWEB) July 23, 2015
Texas Executive Education at the McCombs School of Business at The University of Texas at Austin is proud to announce The Modern Executive Series, a new series of five-day classes beginning in fall 2015. These in-depth classes offer a comprehensive experience that will challenge even the most adept business minds. With classes focusing on three major topics in business – Leadership & Influence, Strategy, and Finance – The Modern Executive Series is designed to give attendees the opportunity to not only engage with premiere faculty from The University of Texas at Austin and the McCombs School of Business, but also other industry elites, all set in the innovation-rich environment of Austin, Texas.
Classes in The Modern Executive Series complement Texas Executive Education's most popular two-day classes to provide participants with a fully immersive experience that offers more time to dig into contemporary business challenges with specific examples, case studies, practical application and concrete techniques. Additionally, the week-long classes bring together some of the most awarded and recognized Texas Executive Education professors from a variety of academic and industry backgrounds.
"We designed The Modern Executive Series based on participant feedback," said Gaylen Paulson, Associate Dean and Director for Texas Executive Education. "We heard from participants across all industries that they wanted additional time to delve into topics, with more opportunities for networking and practical application. We're pleased to offer participants a more comprehensive study of the subject matter and opportunities to apply the lessons to real-world business challenges."
The new Modern Executive Series includes the following six classes:

Texas Executive Education is one of the leading executive education programs in the United States, ranked by CEO Magazine as the #6 Preferred for Executive Education, and the 13th best Open Enrollment program in the United States by Financial Times. Professionals who choose to attend classes at Texas Executive Education benefit from the expertise of The University of Texas at Austin's 3,500+ faculty in 16 different schools across campus. Texas Executive Education partners with the top 1% of this group to shape its curriculum, with each professor possessing the ideal blend of academic research and rigor, and experience working with high-level executives and business professionals across a wide range of industries and functional areas.
Detailed information about the new five-day classes in The Modern Executive Series is available at the Texas Executive Education website.
###