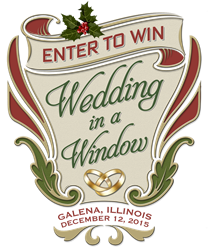 Galena, IL (PRWEB) July 22, 2015
It's no secret that Galena, Ill. is a perfect place for a destination wedding. And this little town that happens to be a premier vacation destination has pulled together to offer one lucky couple a chance at a dream wedding... with a twist.
The wedding will take place in a storefront window during the annual Living Windows event on the city's historic Main Street Dec. 12. If that's not romantic enough, it is also Night of the Luminaria so the city will be glistening with the twinkle of more than 5,000 candlelit luminaries.
To enter this contest, couples must submit a video showing why they should win this once in a lifetime prize. For the winners, everything from wedding attire to the cake to the photography and everything in between will be on the house, thanks to the Galena Downtown Business Association and VisitGalena.org. Videos will be posted on VisitGalena.org's YouTube page where the public can "Like"/vote for the video that they think is best.
Details can be found at VisitGalena.org/blog/galena-wedding. Entries will be accepted and voting will take place through Sept. 30. On Oct. 1, the five videos with the most "Likes" will move on to the final round. A panel of judges will choose the winner from the finalists.
Area amenities and lodging options can be found at http://www.VisitGalena.org or call 815.776.9200. While in town, stop by the Welcome Center in The Old Market House, 123 N. Commerce St., Galena IL 61036-2209.