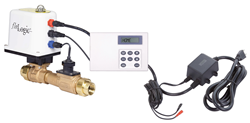 Raleigh, NC (PRWEB) July 23, 2015
FloLogic Inc., which uses patented and trademarked technology to help homeowners reduce or eliminate the economic and personal loss associated with plumbing failures and leaks, announced today that it has appointed Paisley Products of Canada Inc. as the exclusive Canada-wide distributor for its FloLogic System.
The FloLogic System features an Apollo® cast bronze ball valve and is designed for outdoor installations, including below grade installations in a meter box. The system is also 100% dust-proof and waterproof, and has been independently certified to IP68 rating.
"FloLogic is extremely pleased to announce the appointment of Paisley Products of Canada as our exclusive Canadian distributor," commented FloLogic's Chuck DeSmet. "Paisley has a rich history and a deep infrastructure to support the Canadian market in the field of leak detection."
"Our team is very excited to have this opportunity to bring a ULC, CUPC approved leak detection device to the Canadian market," commented Paisley Products of Canada Inc.'s Randolph Paisley. "It complements the many protective products that we already offer Canadian home and condominium builders. We feel that being able to offer FloLogic leak detection to Canadian consumers and qualified resellers and installers to help prevent water damage and detect costly water leaks is a very sound extension of our offerings."
About FloLogic Inc.
FloLogic is a technology company whose major objective is to use its patented and trademarked technology to enable homeowners and business owners to reduce or eliminate the economic and personal losses associated with plumbing failures and leaks e.g. the failure of washing machine hoses, water heaters, water pipes and associated fittings. Plumbing related property damage costs the insurance industry billions of dollars each year and is the single most preventable homeowner claim. While doing so, the Company is impacting the 14% of water used in homes each year that is attributed to plumbing leaks. We save water! The FloLogic System is succinctly known as "the circuit breaker for every plumbing system" ® providing Intelligent Leak Detection™
Learn more at http://www.flologic.com
About Paisley Products of Canada Inc.
For over 66 years, Paisley Products has been the leading source of technical consumable materials and dispensing technology needs. By providing your company with innovative, competitively priced materials from the finest suppliers around the world, Paisley Products is where professionals and experts go for a one-stop shopping experience. Paisley offers outstanding technical support and an inventory that can be specifically tailored to meet any customer's needs. With expert assistance and a dedicated support staff, Paisley Products can find solutions from the most basic of projects to the most demanding applications of these materials.
Learn more at http://www.paisley.ca