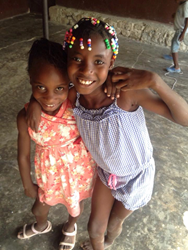 "Our kids lack positive mentors that they each can connect with...We need to do something about this!"
Portland, Oregon (PRWEB) July 22, 2015
Ncompass is a Portland, Oregon based nonprofit focused on youth development and empowerment. They have been partnering with the Maranatha House Orphanage in Haiti since 2011. Before working toward developing and empowering these kids, Ncompass focused its attention to providing basic needs and stability. In the past 4 years, through the support of their partners, they have provided: daily meals, salaries for caregivers, quality education, access to English & after-school activities and most recently, a new dormitory.
Now that the foundations have been laid, they are taking the next steps to deepen their impact while raising these kids up to be the leaders Ncompass believes they are! Over the 15+ trips the organization has taken to Haiti in the last four years, they have observed a consistent challenge that faces these kids on a daily basis. "Our kids lack positive mentors that they each can connect with," says Ncompass Executive Director, Katie Matheny. "All of the children at the orphanage lacked the parental influence that most of us take for granted. We need to do something about this!" While there are adult staff members at the orphanage to take care of the kids, their requirements for cooking, cleaning and other administrative duties do not lend to much free time where they can pour into the development of these children.
Mentors and role models play a key role in the social and intrapersonal development of children. MENTOR- A National Mentoring Partnership, says that children who meet consistently with mentors have reduced depression symptoms, are more likely to gain social acceptance, see an increase in their grades, and an increase in their overall attitude toward school. Ncompass wants this for their kids!
Their solution to this need is to create a mentorship program that will employ educated, motivated, godly, Haitian men and women who will consistently meet with the children of the Maranatha House. Mentors will be paired with 3-4 children to meet with multiple times through the week to help with homework, play games, listen to their concerns, advocate for them, teach life skills, orchestrate team building activities and work on personal development. Additionally, mentors will incorporate opportunities for the kids to give back to their communities through volunteerism.
Ncompass believes that after having met the basic needs of these kids, this mentorship program will be what it takes to grow these children into the leaders Haiti needs.
To learn more about this project, or to find out how you can make this mentorship program possible,please visit http://www.worldncompass.org/#!mentorshipproject/c1bbs.