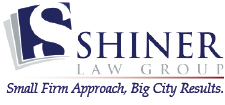 Our clients will benefit from their experience and expertise, and we are fortunate to have them join us.
Boca Raton, Fla. (PRWEB) July 23, 2015
Boca Raton personal injury law firm Shiner Law Group announces that attorney Steven L. Rayburn and case manager Yuly Brandon have joined the firm.
Steven L. Rayburn received his undergraduate degree from Florida State University and is a graduate of St. Thomas University School of Law in Miami. He has practiced law in Florida since 1999, focusing solely on personal injury matters. He has extensive experience as a plaintiff's attorney, and formerly worked to defend major insurance companies, giving him valuable insight into both sides of the personal injury legal environment. Rayburn specializes in obtaining results for individuals impacted by automobile negligence, wrongful death, premises liability and negligent security.
Yuly Brandon comes to Shiner Law from the insurance industry, where she spent nearly a decade as a licensed agent. In her role as case manager, she will manage case files, prepare files for trial, facilitate medical appointments and serve as point of contact for clients, providers, attorneys and insurance adjusters. A native of the Dominican Republic, Yuly has made Palm Beach County her home since the age of 17.
"We are very pleased to welcome Steven and Yuly to Shiner Law Group," said David I. Shiner. "Steve is a professional, dedicated and diligent attorney who truly cares about his clients, and Yuly's interpersonal and organizational skills will help facilitate the effective, friendly representation our firm strives for. Our clients will benefit from their experience and expertise, and we are fortunate to have them join us."
Steven Rayburn is now accepting new clients at Shiner Law Group's Boca Raton office, located at 95 S. Federal Highway, Boca Raton, Florida 33432, or by appointment at the firm's satellite offices at 200 Knuth Road, Suite 101, Boynton Beach FL, 33436, or 8461 Lake Worth Rd, Suite 436, Lake Worth FL, 33467.
For more information, see the Shiner Law Group website at http://www.incourt.com, or call 561-777-7700. You can also learn more about the firm on their Facebook page.
About Shiner Law Group
Shiner Law Group specializes in civil litigation and trial work, with an emphasis on personal injury law and complex business litigation. The Boca Raton-based firm serves all of Florida, including Boca Raton, Boynton Beach, Fort Lauderdale, Deerfield Beach, Delray Beach, Miami, Orlando, Tampa and surrounding communities. Shiner Law Group attorneys are focused on helping each client find justice after car and motorcycle accidents, falls and other injury accidents. Confidential, free consultations are available by calling 561-777-7700. Learn more about Shiner Law Group at http://www.incourt.com.