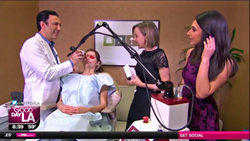 Los Angeles, CA (PRWEB) July 22, 2015
On July 3, 2015, Harper's Bazaar Magazine in an article titled "Bazaar's Definitive Guide to Lasers," provides some basic information on aesthetic laser technology and a glossary of laser terminology. The article explains how long a typical laser treatment takes to heal and whether or not the patient can expect pain or discomfort. Finally, prospective patients are given some guidance for choosing the best doctor for their laser treatment. (see: goo.gl/kYydDo)
"I've been working with lasers since 1998 and it is amazing to see the advances that have been made in laser technology," says Dr. Simon Ourian, Medical Director of Epione Beverly Hills. "Not only are the devices far more advanced but our treatment methodology is more sophisticated than it's ever been."
According to the Harper's Bazaar Magazine report, lasers work by focusing a single wavelength of light on a specific pigment found in the skin or hair. Lasers that target the color red are used to treat broken capillaries and blood vessels. Lasers that target the color brown are used to eliminate unwanted hair and dark marks. Laser light for resurfacing is absorbed by water in the skin creating a wound. The body's healing mechanism responds by generating new collagen making fine lines and wrinkles less noticeable.
"I think the article does a good job of providing basic information," says Dr. Ourian. "Patients are reminded, too, of the importance of the experience and skill of the physician providing the treatment. There is so much more to effective treatment than turning on the laser, aiming, and firing. "
Dr. Ourian has been a pioneer in laser technology and non-invasive aesthetic procedures including UltraShape, VelaShape, Restylane, Juvéderm, Radiesse, Sculptra, and CoolSculpting. These treatments are used for the correction or reversal of a variety of conditions such as acne, acne scars, skin discoloration, wrinkles, unwanted fat, stretch marks, varicose veins, cellulite, and others. More information about laser can be found on Epione's website.