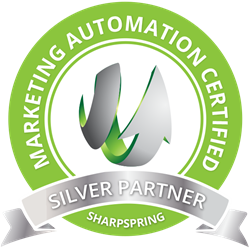 Having a silver-level partnership is just the beginning step towards our goal of becoming the leading SharpSpring partner in the Midwest.
Southfield, Michigan (PRWEB) July 23, 2015
Biznet Digital in Southfield, Michigan is now recognized as a certified SharpSpring silver-level partner. SharpSpring is a digital platform utilized for marketing automation software, partnering with hundreds of agencies and companies around the world. Biznet has been an agency partner since 2014 while also using SharpSpring as its primary lead generation software.
SharpSpring's silver partner certification requires a minimum of three employees to complete and pass four tests on varying aspects of the platform. Biznet realizes that marketing automation is the next major step for businesses to improve upon and succeed at digital marketing. To stay ahead of the curve, Biznet chose to have all employees individually test and successfully pass all four of the required tests. Each test focused on a specific segment of SharpSpring such as how to use the platform, where to find pertinent information, implementation strategies and re-selling the technology.
"SharpSpring is the perfect partner and ideal solution for so many of our clients," Kevin Krason, founder and Chief Visionary Officer of Biznet Digital said of SharpSpring's marketing automation software. Kevin goes on to say, "Biznet's mission is to help small business grow by helping them to create, implement and manage a lead generation and nurturing machine. We began our relationship with SharpSpring in early 2014 and now having a Silver-level partnership is just the beginning step towards our goal of becoming the leading SS partner in the Midwest."
Biznet Digital currently has a number of clients using SharpSpring's marketing automation software to generate more leads, increase revenue with provable ROI and automate digital marketing efforts. Biznet is not only an agency partner but also uses SharpSpring's software for their own automated marketing practices as well as a source for lead generation.
About Biznet Digital
Formed in 1994, Biznet Digital is an ROI-focused, full service digital marketing, mobile and web solutions company. Biznet specializes in web and mobile solutions to increase market share, enable e commerce, improve customer service and automate processes. Biznet's mission is to demystify web and mobile technologies to deliver measurable marketing and business services to help clients succeed. Interested in working with Biznet Digital? Visit http://www.biznetdigital.net or call (248) 560-9000 for more information.