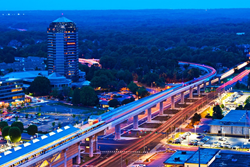 TYSONS, VA (PRWEB) July 27, 2015
Yesterday marked the one year anniversary of the largest expansion of Washington, D.C.'s Metrorail system, the nation's second busiest rapid transit system. Years in the making, the highly anticipated addition to the rail service was expected to bring added value to Northern Virginia hotels. According to Crescent Hotels & Resorts, a management company of over 100 hotels (including 16 in the Washington, DC area), the addition of the Silver Line has exceeded the expectations of the hotel community and their guests. Not only has the Silver Line given more lodging options, but has made visiting Washington, DC easier for those unfamiliar with the city's layout and traffic patterns.
"We are proud to have a Metrorail stop right outside our door," said Mike Chouri, General Manager of the Sheraton Tysons Hotel. "Over the last year our guests have not stopped raving about how truly ideal our location is with our connection to the nation's capital. Additionally, we feel this is such a major milestone in the growth of the Tysons area."
A direct trip from the Sheraton Tysons to the Smithsonian Institution takes approximately thirty minutes by Metrorail, half the time of driving during rush hour. Not only is the hotel just two stops from Tysons Corner Center, the region's premiere shopping and dining complex, but the Metrorail gives hotel guests easy, fast and direct access to key tourist and business points in Washington, DC.
"The Silver Line has not only benefited individual travelers, but groups and meetings as well", stated Chouri. "Those traveling from out of state now have direct access to us from National Airport as well as Union Station." Both transportation hubs are located at Metrorail stops. "Additionally, those planning local meetings have more options now that our 449 room hotel with 45,000 square feet of meeting space is just steps (via Metrorail) from literally hundreds of companies and associations located in Washington, DC and throughout Northern Virginia."
Those hotels already on the Metrorail system have also seen the expansion as a business opportunity. The Westin Arlington Gateway, a newly renovated upscale hotel located in downtown Ballston, Virginia, is two blocks from the Orange Line, which shares the track with the one year old Silver Line. "The Silver Line in Ballston has added value to our current guests and opened up opportunities for new clients from Northern Virginia to host their meetings in an area accessible to metro for their local attendees but close to countless restaurants for those staying overnight," said Michael Broadhurst, the hotel's General Manager. "With so many businesses on the Silver Line we have created some exciting partnerships with Northern Virginia meeting planners."
The Sheraton Reston Hotel, and its neighbor The Westin Reston Heights, located in an upscale neighborhood in Northern Virginia, have also seen their proximity to a Silver Line station make them the perfect location for those visiting the region. With complimentary 24 hour shuttle to Dulles International Airport as well as to the Reston-Wiehle Metrorail Station on the Silver Line, the dual hotel complex's location connects this major international airport to the country's capital city. Travelers will no longer be required to rent a car or be dependent on taxi service to make this connection.
"Our guests simply love being so close to the Silver Line," said Tim Bailey, Complex General Manager, of the Westin Reston Heights and the Sheraton Reston Hotel. The Silver Line Metrorail is also within walking distance of Reston Town Center, a quaint area where guests enjoy the charm and elegance of brick lined streets and lovely architecture with countless shopping and dining options. "Our guests have always enjoyed exploring the Reston Town Center after a day in the city or Tysons area," said Bailey. "Now, guests can take Metrorail back to Reston, spend some time shopping or enjoying a nice dinner, and then request the shuttle to bring them back to the hotel. In addition, we offer Metrorail packages which include full day unlimited Metrorail passes, making it that much easier for our guests to sightsee in the nation's capital. These packages have been very well received and the comments we get the most are how easy transportation is with the passes."
The Westin Reston Heights and the Sheraton Reston Hotel have also seen an uptick in "staycations" where Washingtonians can park at the hotel then hop on the Metrorail and enjoy the city like a tourist and return for a nice relaxing meal. "We see a lot of our staycation guests take advantage to our proximity to the Virginia Wine Country. It's a great way to relax and unwind without having to do much planning or even take days off work." Even for those not staying overnight, the Westin's new connection to the city has given locals another dining option. The hotel is the home to the award winning Vinifera, known for its fresh sourced ingredients, many grown in a garden on site.
"One of the Sheraton's core philosophies of the brand is 'connecting,'" said Marje Jones, Complex Director of Sales and Marketing of the two hotels. "This means connecting with people, connecting for business, connecting with new destinations; it's what we are all about. The fact that we are now connected to Washington, DC really speaks to who we are as a brand. Guests can take the Silver Line right to the Smithsonian Institution or to many key areas in the city without having to switch trains."
Inside Washington, DC city limits, the Silver Line runs on the same rail as the system's key Blue and Orange lines, two of the original three lines from when the system first opened in 1976. This plays an important role for the Silver Line, making it a major transportation artery in Washington, DC with key stops including the US Capitol, The Smithsonian and National Mall, and Foggy Bottom (close to Georgetown, a popular tourist location) among others. Additionally, with only one transfer,visitors using the Silver Line can connect to Reagan National Airport, Union Station, the Pentagon, Arlington Cemetery, Chinatown and any other stop in the system's network.
ABOUT STAY IN WASHINGTON DC
Stay in Washington DC includes Crescent Hotels & Resorts' hotels located in and around Washington, DC. These properties are internationally recognized brands including, Hilton, Hyatt, Sheraton, Westin, Wingate by Wyndham, Radisson, Cambria hotels & suites and Best Western. All hotels are in walking distance to a Metrorail or offer complimentary shuttle service that links guests to the city's world renowned Metrorail network. All locations offer various dining, shopping and entertainment options just minutes away via walking, complimentary shuttle or Metrorail. Several locations offer award winning restaurants right inside the hotels. For more information, visit http://www.stayinwashingtondc.com, like on http://www.facebook.com/StayInWashingtonDC, follow on http://www.twitter.com/stayinwashdc, follow on http://www.instagram.com/stayinwashdc, subscribe on YouTube and connect on Google+.
ABOUT CRESCENT HOTELS & RESORTS
Crescent Hotels & Resorts is a nationally recognized, top-5 operator of hotels and resorts. Crescent currently operates over 100 hotels and resorts in 36 states in the US and 4 provinces in Canada. Crescent is one of the few elite management companies approved to operate upper-upscale and luxury hotels under the brand families of Marriott, Hilton, Starwood, Hyatt and IHG. Crescent also operates a collection of legendary independent hotels and resorts. Crescent's clients are made up of hotel REITs, private equity firms and major developers. For more information, please visit http://www.chrco.com.
rw Stayinwashingtondc.com #stayinwashdc