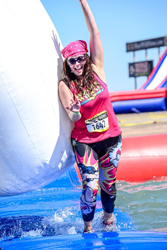 We're excited to partner with the Stunt Run and continue my dad's belief of encouraging people to never give up and to live life to the fullest.
Butte, MT (PRWEB) July 21, 2015
The Original ThrillSeeker Stunt Run Partners with Evel Knievel Days for First of its Kind Stunt Festival; Introduces Premium Professional Stunts to the Masses.
The ThrillSeeker Stunt Run, presented by Guardian Angel Council, is joining Evel Knievel Days as a bonus event on its adrenaline-packed tour. Developed by Hollywood stunt producers, the Stunt Run is usually a unique obstacle run geared toward anyone looking for a thrill. For this occasion, event directors have selected several stunts to feature that will give attendees the opportunity to get the adrenaline rush normally reserved for the extreme athletes at the Evel Knievel Days festival.
Evel Knievel Days is an annual non-profit event–the only extreme sports festival of its kind in the entire U.S.–put on over three days in Evel Knievel's hometown of Butte, Montana.
The event will take place Thursday, July 23rd through Saturday, July 25th in Butte, MT. Participants can expect ultra-premium stunts including the world's largest inflatable water slide featuring a mega-ramp jump at the end, the stuntman free fall and a 30-foot dive-n-slide.
The brainchild of a creator of action sports entertainment and TV's top rated stunt shows, Nitro Circus and Thrillbillies, the Stunt Run brings extreme thrills to the masses in a safe, fun environment. A portion of the proceeds from the Stunt Run benefit Be The Match®, the nation's largest and most diverse bone marrow registry that matches blood cancer patients with life-saving donors and provides support through the transplant process.
"We're excited to partner with the Stunt Run and continue my dad's belief of encouraging people to never give up and to live life to the fullest. Their commitment to providing the ultimate thrill and saving lives through their partnership with Be The Match is a great way to honor my dad, especially because the kindness of strangers lead to the organ transplant that saved and prolonged his life for years." says Alicia Knievel Vincent, Director of Evel Knievel Days.
Event Highlights: With evermore-extreme stunts popularized on the internet and TV, the ThrillSeeker Stunt Festival is designed to bridge the gap between safety and adrenaline. The Stunt Festival showcases advanced stunt rigging, airbags, and inflatables granting broader access to a bolder form of obstacles not limited by mud, electric shock, cold, extreme fitness, or trending gimmicks found in other running events.
When: Thursday, July 23rd - Saturday, July 25th 2015
12pm Stunt Festival start time
Where: The Original Old Mine Park, Uptown Butte
Tickets: Tickets are available for purchase at the door or by visiting the official website at http://www.stuntrun.com. Pricing ranges from $12 for a 1-day pass to $30 for a 3-day pass
About ThrillSeeker Stunt Run
The ThrillSeeker Stunt Run is a one-of-a-kind course designed by Hollywood stunt producers. Produced by a creator of Nitro Circus and Thrillbillies, the run includes over a dozen stunts, giving participants the opportunity to experience "as seen on TV" challenges in a fun environment with friends and family.
About Guardian Angel Council
Guardian Angel Council (GAC) is a 501(c)(3) that exists to create awareness for the National Bone Marrow Donor Program, specifically through the Be The Match® Registry. There is an ever-growing need for marrow donors, as there is a 1-in-4 chance of having a sibling be a match, and about 70% of patients in need of a transplant do not have a suitable donor in their family. GAC pays special attention to increasing minority participation in the registry - minorities make up only 30% of potential donors, and patients are more likely to find that life-saving match from donors of their own ethnic background. For more information, please visit http://www.gacouncil.org.