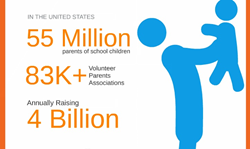 HelloSign and Monday Envelope have a shared commitment to simplify lives, so the partnership was a natural fit," says HelloSign CEO and Co-founder, Joseph Walla. "We're thrilled to help eliminate the paperwork pain points that so many parents have dreaded
Las Vegas, NV (PRWEB) July 22, 2015
As part of the SXSW V2 Venture Conference, V2V Finalist, Monday Envelope, is excited to announce a unique partnership with eSignature leader, HelloSign. "No longer will parents and teachers waste valuable time with mountains of redundant and unnecessary paper forms," said Monday Envelope CEO, Bryn Boughton. "The ability to collect signatures with a few clicks is a radical advancement towards our mission of simplifying parent engagement. In HelloSign we've found the perfect partner. Their easy-to-use API has made life so easy for our team and has enabled us to offer this highly-anticipated feature much earlier than we thought and before any other company in our space."
Parent/school groups rely on Monday Envelope's single-sign-on platform to streamline and centralize all of their communication and fundraising activities. This new partnership adds the ability to collect legally binding electronic signatures on common forms like waivers. "HelloSign and Monday Envelope have a shared commitment to simplify lives, so the partnership was a natural fit," says HelloSign CEO and Co-founder, Joseph Walla. "We're thrilled to help eliminate the paperwork pain points that so many parents have dreaded until now."
Parent teacher associations and classrooms who are interested in Monday Envelope can view a one minute overview and create their free group by visiting http://mondayenvelope.com
About Monday Envelope:
Monday Envelope introduces mobile workflow management tools to a long ignored and quickly growing market area –parents who work to support their schools. Founded in 2013, the company offers a unique, single sign-on solution that radically simplifies parent involvement; making it easy to organize, mobilize and fundraise in real time from any device.There are an estimated 80,000+ such groups in the US alone, collectively responsible for fundraising and spending $4 billion a year. The Company is based in Concord, CA with an office in New York. More information can be found at mondayenvelope.com.
About HelloSign:
HelloSign helps companies grow revenue faster by automating document workflows with an eSignature API, making it simple to embed secure and legally binding eSignatures directly into any website. The three key features of the HelloSign API are the ability to collect signatures, request signatures, and format documents for signing directly on any site. The API is always free during development with the option to self-sign up when purchasing a paid plan. Integrations go smoothly with help from tools like the API Dashboard and a Hipchat support room staffed by HelloSign engineers. Developers can send a first API call in minutes and app certification is free.
About SXSW V2V
SXSW V2V is the newest addition to the SXSW family of events, joining SXSW Music, SXSW Interactive, SXSW Film, SXSWedu and SXSW Eco. Now in its third season, SXSW V2V is an extension and re-imagining of the legendary SXSW experience with an emphasis on the nuts and bolts education startups need to ensure entrepreneurial innovation and success.
This four-day boutique event brings the startup and venture capital communities together with the creative industries that have helped to make SXSW so special. V2V serves innovators and entrepreneurs from across all the industries at the core of the SXSW Family of events – technology, music, film, fashion, health, education, sustainability, and more – as they learn the skills, make the connections, and find the inspiration to take their ideas and talents to the next level. This excitement-packed event takes place Sunday July 19, 2015 through Wednesday July 22, 2015 at Bellagio Las Vegas in Las Vegas, Nevada.