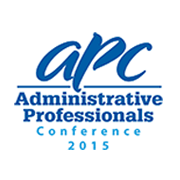 The bonus features on this year's program are all about maximizing the conference experience and really packing in the value for attendees
Portland, ME (PRWEB) July 28, 2015
Several hundred administrative professionals and executive assistants will gather this October 4-7, 2015 for the 23rd Annual Administrative Professionals Conference (APC) in Grapevine, Texas. The conference, produced by the American Society of Administrative Professionals (ASAP), has announced multiple new bonus features on its four-day program.
This year, admins and executive assistants registered for the conference are invited to participate in a complimentary pre-conference live webinar to help prepare them to hit the ground running when they arrive at the APC. The webinar, "OneNote Skills for APC," is designed to specifically address attendees' on-site needs, from downloading conference materials and handouts to note-taking strategies to collaboration with other attendees.
The conference will kick off on Sunday, October 4 with conference orientation for solo and first-time attendees. The orientation will serve as a meeting place for attendees to connect with their peers, to familiarize themselves with the conference program, and to provide tips on getting around the Gaylord and features of the surrounding area. Opening day activities also include workshops, the first keynote presentation, and a welcome reception in the exhibit hall.
Days two and three will begin with Morning Mindfulness Yoga by Grapevine Yoga from 6:30am – 7:30am. Monday's free night will include the opportunity for APC attendees to visit downtown Grapevine shops, restaurants, cafes, and pubs for "Monday Night Out" with special shuttle service available; they also have the option to visit the Grapevine Mills outlet mall nearby.
"The bonus features on this year's program are all about maximizing the conference experience and really packing in the value for attendees," said Judy Geller, Executive Director of ASAP and APC Conference Chair. "Year after year, our admins spend a lot of time on-site focusing on how to improve their skills and contribute to their respective businesses – it's a lot of learning to pack into four days, so we believe that the general sessions should be supplemented with a bit of hard-earned fun, celebration, and networking. And since the conference moves around from year to year, we like to incorporate some local flavor for those who haven't visited the area before. It's the perfect balance of business and fun," she added.
Also new in 2015, the APC will make special "MeetUp" tables available for attendee-driven group discussions during breakfast on Tuesday, October 6. Tuesday night, the APC will be treating attendees to dinner and dancing at the Gaylord's Glass Cactus Nightclub for a traditional Western Texas Round-Up from 7:00pm – 10:00pm. Casual dress and western-themed attire such as cowboy boots, hats, and fringe are encouraged.
About the Administrative Professionals Conference (APC)
The APC is produced by the American Society of Administrative Professionals (ASAP), the largest free association and resource center for administrative professionals. Celebrating its 10th year anniversary in 2015, ASAP has grown its membership to 55,000 admins from around the world, and gives its members access to over 450 online training courses, live and on-demand webinars, a monthly newsletter, articles and features geared for admins, and a prestigious admin certificate program. ASAP is a business unit within Diversified Communications, a global organization operating on four continents and a major independent producer of events and media worldwide. For more information, visit http://www.asaporg.com.